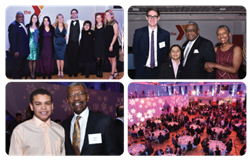 Evanston, IL (PRWEB) February 03, 2016
Thanks to an outpouring of community support from individuals, businesses and organizations, McGaw YMCA raised a record-breaking $230,000 at its Annual Gala on Jan. 23. More than 400 people attended the Gala, which provides essential support for McGaw YMCA's educational and leadership programs for Evanston youth.
"The success of this year's Gala is an outstanding tribute to our members, staff and partners," said President and CEO Mark A. Dennis, Jr. "In our 130th year, we have a collective responsibility to excel in strengthening community life for everyone. That's the ultimate measure of success."
Attendees began the evening by entering MetaMedia, where they could talk with middle school 'makers' about their projects in technology, science, and design. Established by a generous grant from the Lewis-Sebring Family Foundation, MetaMedia has quickly become a haven for hundreds of Evanston youth at no cost to them, and is strengthened by a partnership with Northwestern University and YOU.
"The gala is one of our favorite events of the year and it is so important for supporting all the worthy youth programs at the McGaw YMCA," said Penny Sebring. "The MetaMedia kids are not only learning new skills, they are learning to appreciate each other and work together while having fun. All of this helps them build the foundation for becoming successful adults."
Youth continued to be the main focus throughout the Gala. Kameron McBride, who received the annual Talley-Reece Award for significant community service, said he was shocked and happy at receiving recognition for the hours he volunteers for the Evanston Swims! Program. For three years, he's helped the second graders from his alma mater, Lincoln Elementary, get ready for their monthly swim lesson. "It's really fun," he said, "and the kids love me."
The Gala would not have been such a success without many generous sponsors, including presenting sponsor Northwestern University. Donors include Make It Better Media, Grumman/Butkus Associates and Hagerty Consulting. Other sponsors include Mark Vend Co., Presence Saint Francis Hospital, The Israelite Group, Wellness Revolution, BMO Harris Bank, and Presbyterian Homes.
First Bank & Trust sponsored the Gala "because we can clearly see the impact McGaw YMCA's work is having on so many aspects of community life," said President and CEO Robert R. Yohanan. "We believe that youth programming helps to ensure that the next generation has the opportunity to learn and grow in a safe environment."
The night was particularly special to Lynn Ryan, who sponsored the event with her husband, Jay Ryan, and also chaired the Gala planning committee. This was her fourth year leading the group of volunteers, and her seventh in total. Ryan credited her committee, particularly for its efforts in garnering donations for a silent auction made even more popular because it was, for the first time, available online.
"I'm so fortunate to be part of a community that thinks beyond their own four walls," she said.
Diesel Armstrong was another young person highlighted during the Gala. A video was shown telling the story of how the 12-year-old benefited from the continuum of McGaw YMCA youth services including the Children's Center, Camp Echo and, most recently, Project SOAR. Diesel's mom, Cindi Armstrong, and his Project SOAR mentor, Northwestern University student John Wylie, also were highlighted.
Evanston Mayor Elizabeth Tisdahl, who was seated at a table with the Armstrongs, said learning about their life-changing experience through McGaw YMCA "reminded me of the myriad of reasons to support the Y."
Funds raised at the Gala will support youth programs, including the summer learning program Y Readers, scholarships for Camp Echo and the Children's Center, mentor activities for Project SOAR, college tours for Y Achievers, supplies and projects in MetaMedia, and much more.
Additional sponsors included Accuity, Hilton Garden Inn, Second Baptist Church, Evanston Capital Management, Temperance Beer Co., Chase, Designs for Dignity, Alford Executive Search, Mike Truppa Communications, The Owens Group, and Jeffery D. Kahla, Major General USAF (Ret.), and Joan Kahla.
"To me the most important thing about the Y Gala is that it's a cross section of so many wonderful things about Evanston," said Joe Flanagan, former McGaw YMCA board member and President & CEO of Acquirent. "You've got the university represented, the high school, grade schools, all the political forces, not for profits, everybody mixing it up. It is one of the few nights a year where there's that kind of interaction."
# # #
The McGaw YMCA (http://www.mcgawymca.org) is a cause-driven, charitable organization that seeks to strengthen community with a focus on youth development, healthy living, and social responsibility. Our programs for children and teens support them academically, emotionally, and socially. Through these programs, the McGaw YMCA has positively impacted the Evanston community for 130 years.