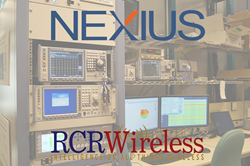 This new partnership with RCR Wireless News will provide technology leadership, quality assurance, and insights for products and solutions to help network operators and enterprise organizations. - Mike Bonewitz, VP of Offer Development, Nexius
Allen, Texas (PRWEB) February 03, 2016
RCR Wireless News today announced a new partnership with Nexius, who specializes in delivering end-to-end network services and business intelligence solutions, to create an Independent Proof of Concept Lab and Testing Program for network operators and enterprise sector buyers.
"This new partnership with RCR Wireless News will provide technology leadership, quality assurance, and insights for products and solutions to help network operators and enterprise organizations make more informed business decisions, optimize their technology implementations, and leverage fully functioning solutions," said Mike Bonewitz, Vice President of Offer Development and Management at Nexius.
Nexius and RCR Wireless News will test solutions through validation and verification exercises, including infrastructure and application deployment and configuration. The team will test solutions relating to the latest technologies, including, but not limited to:

Cloud solutions
Network Function Virtualization (NFV)
Software Defined Networking (SDN) solutions
"By partnering with Nexius, together we can provide RCR Wireless News readers and industry decision makers with pivotal insight concerning key technology products and solutions to make better, more informed purchase decisions for improved business performance," said Jeff Mucci, CEO and Editorial Director at RCR Wireless News.
Learn more about this exciting new venture in this accompanying video press release.
About RCR Wireless News
Since 1982, RCR Wireless News has been providing wireless and telecom news, insights, and analysis to carrier and enterprise professionals, decision makers, policy makers, and investors. RCR Wireless News connects technology readers and companies with their industries, their customers and talent by pairing credible and actionable industry information with measurable sales and recruitment lead and content generation programs. Our dedication to editorial excellence coupled with one of the industry's most comprehensive industry databases and digital networks, leads readers and sponsors to consistently choose RCR Wireless News over other industry sources and publications. http://www.rcrwireless.com
About Nexius
Nexius specializes in delivering end-to-end technology, network services, big data analytics, and advanced software solutions to leading network operators and enterprise organizations, enabling them to deploy, optimize and monetize their networks more rapidly and efficiently. Through the company's focus on software automation and self-performance, Nexius is uniquely positioned to help operators and enterprises accelerate their network and business transformations. Founded in 2001 and headquartered in Allen, TX, today the company has over 1,000 dedicated professionals. http://www.nexius.com