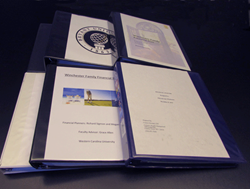 I was very excited to hear that Alex has moved on to the Semi-Finals. It is always exciting to see your students succeed and to see all of their hard work pay off...Professor Jeff Eicher, Clarion Univerisity - Clarion, PA
Middletown, OH (PRWEB) February 03, 2016
The National Financial Plan Competition is organized through the IARFC for undergraduate students in a curriculum related to Financial Services. Initially, participants were given a fictional case study of a family with an overview of their financial picture. From that, teams were asked to produce a financial plan with recommendations for current and future action. Completed plans were then sent to the IARFC headquarters where four were chosen to compete in the Semi-Finals.
The Semi-Finalist teams who are scheduled to explain their financial plan this year include: Molly Funk from Bryant University in Smithfield, RI – Mara Derderian Professor; Cole Brownell and Anthony Peleaz from California State University Northridge in Northridge, CA – Inga Chira Professor; Daniel Ingles and Grant Hulett from Central Michigan University in Mount Pleasant, MI – Doug Iles Professor; and Alexander Pucilowski from Clarion University of Pennsylvania in Clarion, PA – Jeff Eicher Professor.
The IARFC feels this competition gives students an exercise in real-world practice – that of analyzing a client's situation and critically thinking a course of action. In many cases, professors have used this exercise as part of their curriculum. "It is one thing to learn about concept. It is very different to require that knowledge be applied to specific client situations," explains Professor Douglas C. Iles from Central Michigan University who has a team in the Semi-Finals. "This competition helps students better prepare for the real-life financial planning industry."
Once the IARFC Board makes their selections, up to three teams will prepare a live presentation of their plans at the Charlotte Motor Speedway Club in Charlotte, NC. This will be the second year in a row at this popular venue. The competition is a two-day event with Day 1 featuring industry professional presentations for both the experienced consultant and those just starting their careers. "We are excited to once again host the National Financial Plan Competition," said IARFC Board Chairman and Competition host Steve Bailey of HB Financial in Charlotte. "We are grateful to our Corporate Sponsors for their dedication to this event and appreciate the RFC® members who support us. We encourage all of you to consider attending and being part of the judging audience."
For more information on how to register for the CE Presentations and the Competition on April 20-21 in Charlotte, NC – visit the IARFC website.