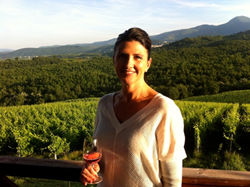 Woodinville, Wash. (PRWEB) February 03, 2016
Columbia Winery has announced Certified Sommelier Shelly Fitzgerald as the Winery's new Wine Education Specialist.
A California native, Shelly began her career in the wine industry in London, where she briefly lived abroad with her husband and young children. Here, she enrolled in the Wine & Spirits Education Trust, learning all she could as an apprentice under a wine shop owner.
In 2010, Shelly moved to Seattle and worked as the New World wine buyer for Wine World and Spirits, and then worked as sole wine buyer for Downtown Spirits. Since moving to Washington, she has truly enjoyed getting to know the great diversity offered in the state's wines, as well as the people who grow and make it.
"There's such a great sense of community here," Shelly said. "You get the feeling everyone really just wants to see Washington wines succeed and spread the word about how truly remarkable these wines are."
Earlier this year, Shelly accepted a role as the Wine Educator for Columbia Winery. As such, Shelly is responsible for teaching visitors to the tasting room about the Winery's offerings, as well as Washington wine as a whole – a task she is excited to take on.
"We are thrilled to have Shelly join us at Columbia Winery," Columbia Winery Winemaker Sean Hails said. "She brings such an enthusiastic spirit to not only our winery, but for the Washington wine industry overall."
About Columbia Winery
For more than 50 years, Columbia Winery has embraced a legacy of progressive winemaking that has led its forward-thinking winemakers to discover new grape varieties, vineyards and blends. Today, Winemaker Sean Hails continues this spirit of innovation, handcrafting a distinct collection of food-friendly wines from Washington State. Here, intense sunlight, coupled with a lack of rainfall, translates to deeply concentrated color, flavor and structure in the glass. Located just outside of Seattle, the iconic Columbia tasting room offers daily tastings and Northwest-inspired offerings.
http://www.columbiawinery.com | http://www.facebook.com/columbiawinery