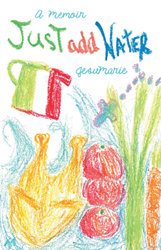 My hope is to enlighten others who may have or will travel the road that I have taken in life.
Philadelphia (PRWEB) February 08, 2016
Nearly 1 in 5 women across the country are victims of domestic violence in their lifetime, but 1 in 15 children are also exposed to domestic violence each year. These innocent bystanders are often forgotten, yet do not forget.
In her new book, "Just Add Water: A Memoir," author JesuMarie reflects on her childhood growing up surrounded by domestic abuse. Inspired by her mother's passing, JesuMarie shares the struggles she faced growing up as a second-generation immigrant living in a violent household, and how her experiences affected the rest of her life.
"For years, I pondered the effect of domestic abuse on my life," JesuMarie said. "I would journal and keep track of my feelings and ideas regarding my past life and how it impacted my adult life. The passing of my mother motivated me to complete writings that I started years before on my childhood."
In spite of her agonizing childhood, JesuMarie found new faith through her connection with God. "Just Add Water" is a raw depiction of JesuMarie's steps toward finding that faith and feeling confident in her spirituality.
"Outward appearances may not tell the real story," JesuMarie said. "God is at the center of everything in this world."
Readers suffering with domestic abuse or facing other seemingly impossible trials will feel healed and inspired by JesuMarie's story.
"My hope is to enlighten others who may have or will travel the road that I have taken in life," JesuMarie said. "Through writing this book, I have enlightened myself more fully on my past and its implications for my present and future."
Just Add Water: A Memoir
By JesuMarie
ISBN: 978-1-4917-7503-5
Available in softcover and e-book
Available on Amazon, Barnes & Noble and iUniverse
About the author
JesuMarie obtained her Ph.D. from Widener University and is currently a nurse. She is a member of the National Association of Professional Women and the National Alliance for the Mentally Ill. Her previous work includes contributions toThe Nursing Forum, Home Healthcare Nurse and the Nursing Spectrum.
# # #
**For Immediate Release**
For review copies or interview requests, contact:
Jade Schwarting
317.602.7137
jschwarting(at)bohlsengroup(dot)com