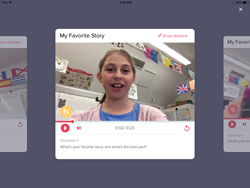 San Carlos, CA (PRWEB) February 03, 2016
Swivl—edtech pioneer of classroom video—today announced Recap, a brand new, free app designed especially for teachers. Today's announcement also marks the launch of Recap's private beta, now open for sign ups.
Recap is a video response and reflection app that lets teachers and parents see how students learn. It provides insight into students' grasp on curriculum and how they're progressing through the learning process by introducing video as a simple, everyday tool to collect unique, highly-personalized student data. Recap will expand formative assessment, promote peer-to-peer learning and strengthen the Home-to-School Connection.
"Video is an incredibly powerful tool for learning," said Swivl co-founder, Brian Lamb. "For years, we've talked to educators about their use of video in the classroom. Today's announcement of Recap, however, is the product of an eight-month, highly-concentrated research and development process where we collected feedback from hundreds of classroom teachers."
Recap's short-form, multimodal response system provides quick bursts of student data, enabling teachers to immediately adjust instruction. After creating an assignment, teachers can use student-captured video responses to assess individual or class performance, track progress and keep parents better-informed and engaged.
"Classroom technology must follow the same transformation teaching has undergone," Lamb continued. "From sage on the stage to guide on the side, technology needs to become less immersive. It should free teachers to better personalize the learning process and reinforce the social bonds that make up our learning environments."
To learn more about Recap and to join the private beta, visit http://letsrecap.com.
About Swivl
Swivl was founded in 2010 by Brian Lamb and Vladimir Tetelbaum. We were one of the first startups to ever successfully use crowdfunding, and have been developing and launching education-focused solutions ever since. Today, our solutions are used in over 20,000 schools around the world. We have offices in Silicon Valley to Kiev, Ukraine and Hong Kong, China. And we are backed by a world-class team of investors including IdeaBulb Ventures, Grishin Robotics, Newbury Ventures, Kima Ventures, Zhen Fund, Fresco Capital Advisors, StartCaps and more. http://www.swivl.com.