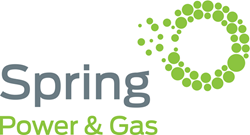 New York, New York (PRWEB) February 03, 2016
- RRH Energy Services launches new energy brand in New Jersey and Maryland

100% Green products offering electricity matched with nationally sourced wind Renewable Energy Certificates and carbon offset natural gas
Rewarding customers for conscious environmental choices
RRH Energy Services announced today that they are launching Spring Power & Gas, a new energy supplier affiliated with Kiwi Energy and will assist customers in finding new ways to reduce their carbon footprint. Spring Power & Gas is set to launch in New Jersey and Maryland and will offer electricity and Renewable Energy Certificate (REC) products and carbon offset natural gas to New Jersey and Maryland residents.
Spring Power & Gas supports the production of renewable energy through their environmentally focused products, "Our REC products promote demand for renewable energy and supports the development of renewable energy. 'Spring Green', contains electricity and RECs generated from nationally produced wind energy. 'Zero Gas' our carbon offset natural gas product allows customers to have a zero carbon footprint for their gas usage. The project that we have sourced avoids deforestation in Para State, Brazil where 63% of the rain forest has already been lost." Says Donald Cheesman of RRH Energy Services, "It was important to source a project that has nil impact from the production of the carbon credits, that CO2 was not generated in the process. This is often the case in waste management projects that require combustion to generate offsets."
RRH is currently working on their sustainable reporting and will be operating retrospectively as a 100% carbon neutral organization for 2015 and subsequent years.
Spring Power & Gas will provide customers the Ecogold loyalty program that is currently part of the New York value offering. The program allows customers to choose either Cash Back or Ecogold Rewards,which can be redeemed for household carbon offsets, gift cards from popular retailers or movie tickets.
"We have seen a large uptake in the rewards program in New York and anticipate a similar response in the New Jersey and Maryland market," says Steve Eskrigge of RRH Energy Services. "We aim to make it easy for customers to make the right choices and reward them for doing so by providing customers with loyalty rewards to fit their needs."
RRH Energy Services will also be launching Arrow Energy in the mid west by mid 2016 and an energy retailer in New England later in 2016.