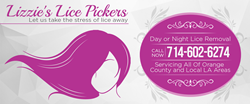 Orange County, CA (PRWEB) February 03, 2016
Lizzie's Lice Pickers, a professional lice treatment salon, is excited to announce that the salon will be having an exceptional Valentine's Day Special for both old and potential new customers. Dubbed as 'Spread the love not the bugs,' this special event that is slated for the entire week of Valentine's Day starting (February 14, 2016,) is dedicated towards giving all customers a Valentine's Day Special Discount. What this offer entails is when a customer purchases any product from Lizzie's Lice Pickers, they will receive one (1) complimentary head check in return.
To know more about their products, visit - http://www.lizzieslicepickers.com/services
Lice reproduce at alarming rates, producing up to 90 eggs a month. Report says there are about 6-12 million cases of head lice each year in the United States, with most cases affecting children between the ages of 3 and 12.
Head lice can be a very irritating and frustrating problem and can prove to be a cause for embarrassment. Hence, it is very important to follow the counsel and treatment methods suggested by a lice removal expert like Lizzie's Lice Pickers.
Renowned with the statement 'we are here to help with all of your lice removal needs,' the complimentary head check involves the thorough screening of the customer's head for both lice and nits by the salon's highly trained technician.
Speaking about this special discount offer, one of the company's spokesperson said; "Valentine symbolizes love, and love is all about giving and sharing. This Valentine's Day Special Discount is our own way of giving back to our customers. We are offering our best deal to help you have and enjoy a great Valentine. If you buy any of our products, you are entitled to receive one unique head check for free."
About Lizzie's Lice Pickers
Lizzie's Lice Pickers is a professional lice removal service. We specialize in the identification and removal of head lice on children and adults using non-toxic, natural, multi-enzyme-based, and hypoallergenic product.
We can treat you at our O.C. lice removal center, or we can come to you with our in home lice removal services.