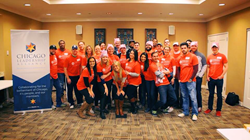 Chicago (PRWEB) February 03, 2016
The Chicago Leadership Alliance, a burgeoning coalition of Chicago's leading young professionals, capped off its first year with a series of successful philanthropic efforts and strong prospects for growth in 2016.
Formed in 2015 by some of Chicago's most promising young leaders, the Chicago Leadership Alliance (CLA) seeks to better the Chicago community by connecting likeminded business leaders in Chicago. CLA provides a forum to leverage collective influence, resources, experiences, and ideas for positive social change in the greater Chicagoland area.
"When we first started CLA, we each made a commitment to give back to our community," said Michael Stark, co-founder of the Chicago Leadership Alliance. "This past year was incredibly successful for us in all four of our focus areas in philanthropy, business, social and civic engagement. We're all the more excited for what we'll be able to accomplish in the year ahead."
2015 Major Milestones: 
— Kick started an initiative to change signage laws by forming a coalition with The SBAC and over a dozen other civic organizations
— Partnered with The Ronald McDonald House and After School Matters to host two very successful volunteer days, with over half of The CLA members in attendance at each gathering
— Organized first Annual Event in October to celebrate leadership and mentorship which brought in almost 200 guests and over $7,000 in donations for The Remix Project
— Formed our first intramural sports team which dominated the beach volleyball courts off Lake Shore Drive and proudly reached 3rd place in its division 
— Hosted more than a dozen official CLA sponsored events
— Grew CLA membership from 2 to 62 by the end of December and added on a 10-person Advisory
"With these successes under our belt, we're looking forward to how else we can serve Chicago," Stark said. "We hope to continue being a positive example of dedication, creativity and kindness for the future leaders of Chicago."
Chicago leaders had this to say about the organization and their events:
Breakfast at the Ronald McDonald House
"As the week ends, I wished to reach out to say a BIG Thanks for your participation here last weekend. Whether cooking families breakfast, engaging the community on Grand Avenue (and beyond) or helping to establish our new storage area, YOU contributed a TON to helping families here. Thank you, thank you, thank you- collectively and individually. YOU are quite the impressive group."
—Mark Shouger, Managing Director, Ronald McDonald House
Mock Interview & Resume Workshop with After School Matters
"I've been through several similar workshops with other organizations and today was by far the best situation we have been in. It was amazing to hear the students talk about not only their understanding of the resume writing and interview process, but also their deepened sense of self coming out of that
—Caitlin, Program Director, After School Matters 
CLA Remix - Annual Event
"A quick note expressing absolute gratitude for the event on Friday night to the whole CLA team. Really amazing group, and personally I was very happy with the event. Thank you for everything your team brought to the event, I believe it was very successful and our young artists really enjoyed the stage and everyone walked away with at least one new supporter each which is what we are all about."
—Jason Eano, Program Director, The Remix Project
The Chicago Leadership Alliance is currently offering membership renewal and open enrollment for 2016. To learn more, please visit http://www.thecla.org.
About Chicago Leadership Alliance
The Chicago Leadership Alliance (CLA) provides a community for Chicago's most ambitious, benevolent and well-connected young leaders. The CLA offers members an opportunity to interact and build important relationships, while also providing members with the forum to leverage collective influence, resources, experiences, contacts, ideas and fresh perspectives all in order to benefit others, and accomplish otherwise unobtainable objectives. For more information about the CLA, please visit http://www.thecla.org.