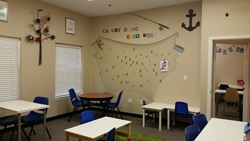 ABA therapy can truly make a difference for children with autism in reducing undesired behaviors and promoting more positive ones.
Southlake, Texas (PRWEB) February 08, 2016
In an effort to promote ongoing success and independence for children with autism, PediaPlex has recently reorganized its facility to encompass its growing Applied Behavior Analysis (ABA) therapy program. This evidence-based intervention program supports children in developing a wide range of functional skills and appropriate social behaviors that they use daily. The program creates a positive learning environment and is tailored to the individual needs of each child.
Shaping and chaining are two common approaches used in ABA therapy. Shaping involves meeting a child at their skill level and slowly progressing them to their goal level. "If you want your child to be able to sit for 10 minutes, and they can only sit for 3 minutes, or even 30 seconds, that's where we'll start," says Sonia Kirkpatrick, owner of PediaPlex. "They'll sit for 30 seconds and receive positive reinforcement. Then the time will increase slowly, and as they're successful at each interval, they'll be able to sit longer and longer until they hit that 10 minute mark."
Chaining involves breaking down complex tasks into simpler steps. "For instance, before a child can tie their shoe, they have to be able to put their shoe on, then hold the laces, then cross the laces, and so on," explains Kirkpatrick. "So they practice one step until they master it and then another step is added. Eventually they can tie their shoe on their own." ABA therapy can support children in developing a variety of skills and parents become actively involved so that they can implement and reinforce the same strategies at home.
However, before a child can receive ABA therapy at PediaPlex, they must have an autism diagnosis. This is also a requirement before many insurance companies will cover services. It is important that parents check with their insurance company and read their policy to see if behavioral health services are covered, and to what extent. ABA therapy is a behavioral service rather than a medical service, where as occupational and speech therapy are medical services, which is why they are more commonly covered.
"ABA therapy can truly make a difference for children with autism in reducing undesired behaviors and promoting more positive ones," says Kirkpatrick. "It can teach them how to do many life skills more independently such as toileting, dressing, taking turns, carrying on a back-and-forth dialogue, and much more. But before insurance will cover therapy, the child must have a diagnosis of autism and a form from their physician that verifies medical necessity."
Parents can talk to their insurance company or the professionals at PediaPlex to learn more about what types of policies include ABA therapy, and how to see if their child is eligible for coverage. Kirkpatrick encourages parents to fill out the interest form on the PediaPlex website, and a staff member will call them to discuss their individual situation and available options.
For more information or to access the interest form, visit http://pediaplex.net.
ABOUT:
PediaPlex is an all-inclusive diagnostic and therapeutic clinic located in Southlake, Texas. It offers comprehensive services to children with a variety of disorders ranging from autism, ADHD and sensory-motor problems to learning disabilities, mental health disorders and developmental delays. Therapy services include occupational therapy, speech therapy, play therapy, psychology testing, cognitive and academic assessments, counseling and ABA therapy. The multidisciplinary team evaluates and diagnoses children to determine their individual strengths and areas of need and then creates a collaborative treatment plan to address these concerns. All services are offered in one convenient location.