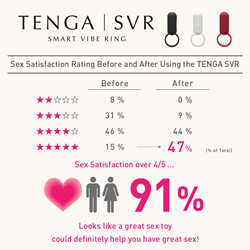 Tokyo, Japan (PRWEB UK) 5 February 2016
Japanese Sex Toy Manufacturer TENGA Co., Ltd. has released results of their global survey into how sex toys can improve people's sex lives. The results were released in an infographic with details on not only the before and after of using sex toys, but on sex and masturbation habits of their 800 entrants to their "Better Sex Survey."
After using the TENGA SVR 91% of participants reported over 4/5 in Sex Satisfaction, with approximately 60% of testers saying their satisfaction with their sex lives increased after the two week test period.
TENGA also inquired into other aspects of their respondents sex lives such as frequency and satisfaction of sex life, masturbation habits and more, with results collated in an infographic available on their website along with a full breakdown of the results:
https://www.tenga-global.com/campaign/SVR_Results/