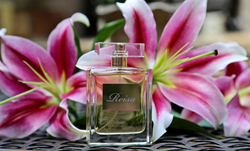 Truly Yours Parfums is celebrating Valentine's Day with a #lovenotes campaign and promotion inspired by its debut fragrance Reisa's romantic and fashionable oud base note.
Los Angeles, CA (PRWEB) February 03, 2016
With love in the air on Valentine's Day, why not choose a scent that's all about romance, whether you are wearing one or gifting? Reisa, the new fragrance from LA-based Truly Yours Parfums, recently debuted its 100 ml eau de parfum an intoxicating citrusy-floral scent anchored with a woody oud base note, prized for centuries for its romantic properties.The perfect Valentine's Day fragrance.
To the celebrate the countdown to cupid's arrival, Truly Yours Parfums is launching a #lovenotes campaign on their social media and website, complete with fun photos, a 20 percent off promotion (promo code LOVE) and product giveaway.
Oud, a rare ingredient harvested from Asian argarwood, has become a sought after fashionable ingredient in niche and premiere fragrances, experimenting pairing it with florals, powders, trees, and palatable flavors. With its oud base note, Truly Yours Parfums has positioned itself among other luxe and premiere fragrance houses.
Reisa opens with a bright top note of Italian bergamot accented by the sheer softness of lime blossom. Its lush, full bodied floral middle note accord of tuberose, orange blossom, jasmine and stargazer lily is supported by notes of warmth and depth—a hint of woody oud dancing among sweet vanilla and earthy patchouli.
The perfume oil debuted at New York Fashion Week in September with the eau de parfum being introduced at the GBK Golden Globes gifting suite with celebrity accolades for the "sexy" "beautiful" "sophisticated" scent.
Please view the complete media kit with images (scroll to bottom of media kit) of REISA 100 ml eau de parfum and pure perfume rollerball here.
To see more of REISA and Truly Yours Parfums, please visit our website.
About Truly Yours Parfums
Entrepreneur Sheba Grobstein dreamed about creating a signature parfum ever since her first trip to France in her early twenties. When the time was right, many years and much research later, she did just that. And when she began to wear it, the overwhelming response from friends, strangers and others made Sheba realize she had to share. Her company and its first fragrance, Reisa, the one that started it all, are dedicated to the philosophy that the beauty of fragrance is timeless. Her goal is that her scents be subtle yet distinctive and unique enough to evoke a reminder of the women who wore them. Twenty percent of profits will be shared with organizations whose programming promotes individual empowerment, success and well-being. To learn more about Reisa and Truly Yours Parfums, please visit the company website at trulyyoursparfums.com or follow us on Facebook, Twitter and Instagram.
_____________________________________________________________________________________________________________________________
MEDIA CONTACT:
AMN Media Group/Amy Nebens
310.849.0335
amy(at)amnmediagroup(dot)com