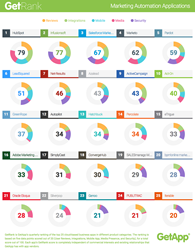 With the right integrations, marketing software can go much further, streamlining workflows and providing more value to marketing efforts.
(PRWEB) February 04, 2016
Cloud-based business apps marketplace GetApp has updated its ranking of the top 25 apps for marketing automation in Q1 2016; HubSpot took the top spot, with Infusionsoft hot on its heels in second place, and Salesforce Marketing Cloud rounding out the top three.
GetApp's ranking is an independent ranking system designed to help small and midsized businesses choose a cloud-based business app. It ranks apps according to five data points: user reviews, integrations, mobile apps, media presence, and security. These data points are scored out of 20, with a total of 100 points available overall.
User reviews are based on the total number of reviews left on GetApp, as well as their rating. Integrations are based on the number of business apps that each product integrates with, while mobile presence is calculated by totalling a vendor's Twitter followers and Facebook fans. Security data comes from information provided by vendors on a survey based on the Cloud Security Alliance Self-­Assessment Form, while mobile app scores are based on the availability of each vendor's app in the Google Play and Apple App Store, as well as its rating in each.
Hubspot performed strongly in the reviews, integrations, and media presence data points, with a perfect 20 for each, and a score of 19 out of 20 in the mobile apps section. With such a strong performance, Hubspot was only challenged in the security arena, with SALESmanago Marketing Automation, bpm'online marketing, and Genoo leading the pack with 15 points a piece. While each data points brings its own value, integrations is especially important for marketing software.
"Marketing automation encompasses all of the tools necessary for marketing in multiple avenues, but with the right integrations, the software can go much further. As marketing automation software becomes more robust with additional functionality like lead management, reporting, and publishing, being able to integrate with other software like a CRM or more powerful analytics tool only aids in the process of streamlining workflows and providing more value to marketing efforts," says Suzie Blaszkiewicz, researcher and project manager of GetRank.
Click through to see the entire Q1 2016 ranking of the top 25 marketing automation solutions. You can also download a free copy of our report, Marketing in the Cloud, with industry expertise and commentary on trends in marketing automation software.
More about GetApp: GetApp, a Gartner company, is the leading premium business app discovery platform on the web. Headquartered in Barcelona (Spain), GetApp serves as a platform for user-generated and editorial reviews of software and apps for businesses.