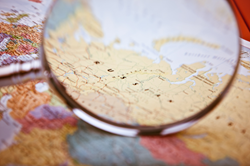 Globalization Partners' Employee of Record Platform now available in more countries in Eastern Europe and Asia, provides clients with a faster alternative to direct hires.
Boston, MA (PRWEB) February 11, 2016
Globalization Partners is excited to announce the expansion of its Global PEO service into 30 new countries, bringing the total number of countries in which it simplifies global hiring to 130. US companies increasingly look toward the former Soviet states as an area of opportunity, but regulatory restrictions make it difficult for them to hire employees. Globalization Partners, whose mission is to eliminate barriers to global business by making it easy for companies to hire overseas, offers a faster and less expensive alternative. By hiring employees on behalf of clients, providing payroll services, and acting as the legal employer of record, Globalization Partners' Employee of Record Platform reduces risk and cost, and increases speed to hire.
"Expanding to the former Soviet states is a strategic business initiative for many of our clients, but making a direct hire can be difficult and time consuming. Our proprietary PEO solution significantly reduces red tape and takes the hassle out of the process, enabling our clients to focus on their operations."– Nicole Sahin, CEO, Globalization Partners.
Serving clients in more than 100 countries, Globalization Partners is pleased to introduce support in these additional countries throughout Eastern Europe and Asia:
Albania
Georgia
Montenegro
Armenia
Greece
Romania
Azerbaijan
Hungary
Russia
Belarus
Kazakhstan
Serbia
Bosnia
Kyrgyzstan
Slovak Rep
Bulgaria
Latvia
Slovenia
Croatia
Lithuania
Tajikistan
Cyprus
Macedonia
Turkmenistan
Czech Republic
Moldova
Ukraine
Estonia
Mongolia
Uzbekistan
ABOUT GLOBALIZATION PARTNERS
Founded with the goal of making it easy to hire employees around the globe, Globalization Partners assists US companies by providing a global Employee of Record Platform in 130 countries including China, Brazil, Singapore, Taiwan and Korea. The company was founded by Boston-based Nicole Sahin, who has spent her career helping clients establish branch offices and subsidiaries in dozens of countries. She started Globalization Partners in 2012 with the mission of changing the face of international business by offering simplified international business solutions in an ever-expanding global marketplace. For a full list of countries in which Globalization Partners' PEO services are offered, please visit: http://www.globalization-partners.com/countries/
Find Globalization Partners Online:
http://www.globalization-partners.com
LinkedIn
CONTACT:
Nicole Sahin, CEO
nicole.sahin(at)globalization-partners(dot)com
1 Broadway, 14th Floor
Cambridge, MA 02142
TEL: 1 (617) 285-0921