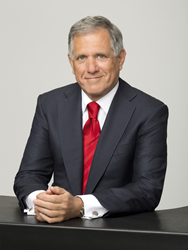 "Les Moonves' remarkable achievements represent the potential of a Bucknell education."
Lewisburg, Pa. (PRWEB) February 03, 2016
Leslie Moonves, president and CEO of CBS Corp., will return to his alma mater May 22 to address Class of 2016 graduates as the keynote speaker at Bucknell University's 166th Commencement. Moonves is a member of Bucknell University's Class of 1971.
As head of one of the world's largest media companies, Moonves oversees operations that span broadcast television, basic and pay cable, feature films, publishing, radio and online entertainment. His company features many leading content brands, such as the CBS Television Network, CBS News, CBS Sports, The CW, SHOWTIME, Smithsonian Channel, Simon & Schuster and CBS Radio.
Under Moonves' direction, CBS has been America's Most Watched Network 12 of the last 13 years and is home to the nation's highest-rated drama (NCIS), comedy (The Big Bang Theory) and news program (60 Minutes). On the business side, he has helped the CBS Corporation grow in value, revenue and market share by developing new revenue streams for future growth.
"We are extremely pleased that Mr. Moonves accepted our invitation to speak at what is sure to be one of our most memorable experiences at Bucknell," said Connor McLaughlin, president of the Class of 2016. "As a Bucknellian who has achieved tremendous success in his professional career, Mr. Moonves will undoubtedly impart words of wisdom that resonate with both our class and the Bucknell community at large."
While leading a successful $30 billion organization with more than 20,000 employees, Moonves uniquely maintains a hands-on role in the creative parts the business — including casting, program development, marketing and scheduling.
As an undergraduate at Bucknell, Moonves majored in Spanish and pursued a love of theater that began at an early age. He performed in several plays at Bucknell and after graduation pursued an acting career at New York City's Neighborhood Playhouse. He also landed several small television roles, including a guest spot on The Six Million Dollar Man, but soon decided his talents were best suited for a role behind the scenes.
"Les Moonves' remarkable achievements represent the potential of a Bucknell education," said Bucknell President John Bravman. "He developed his passion for language and the arts into an extraordinarily successful career. He is a true exemplar of the power of the liberal arts."
After serving in leadership roles for 20th Century Fox Television, Saul Ilson Productions and Catalina Productions, Moonves joined Lorimar Television as an executive in 1985, and in 1990 he was named the company's president. When Lorimar combined operations with Warner Bros. Television in 1993, Moonves took over as president and CEO of Warner Bros. TV, where he green-lighted the megahits Friends and ER, among other shows.
He moved to CBS in 1995, joining the corporation as president of CBS Entertainment. He was promoted to president and CEO of CBS Television in 1998, then to chairman in 2003. He was named co-president and co-chief operating officer of the network's parent company, Viacom, in 2004, and assumed his current role in 2006 after Viacom split its businesses into two publicly traded companies. A member of the Television Hall of Fame, Moonves ranks among the world's most influential media executives.
This will be the second time Moonves has addressed graduates at Bucknell's Commencement ceremony; he previously gave the Commencement address in 1996. He was also awarded an Academy of Artistic Achievement Award by the Bucknell Association for the Arts in 1995 and an award for Achievement in a Chosen Profession by the Bucknell Alumni Association in 2002.
Moonves is married to television and news personality Julie Chen. They live in Beverly Hills, Calif.