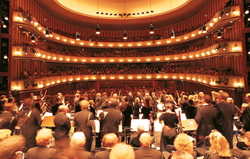 Düsseldorf, Germany (PRWEB) February 03, 2016
On Saturday, February 13, another of Giuseppe Verdi's major operas will premiere at the opera house in Düsseldorf with a new production of "Don Carlo." It is directed by the internationally renowned Flemish director Guy Joosten, who has already created two highly successful productions for the Deutsche Oper am Rhein with Strauss' "Die Frau ohne Schatten" and Poulenc's "Dialogues des Carmélites." The conductor is Andriy Yurkevych, who alongside his role as General Music Director at the Warsaw Opera, regularly conducts at the great opera houses in Vienna, Zurich and Madrid. Alfons Flores, who recently created considerable excitement at the Deutsche Oper am Rhein with his evocative canopy of glasses for Donizetti's "L'Elisir d'Amore," is the stage designer, and Eva Krämer is the costume designer. Manfred Voss is the lighting designer.
Just like Schiller's play "Don Carlos," Verdi's opera reflects the inhumanity of a totalitarian power system. Young people are caught between individual liberty and public pressure, finding themselves under constant surveillance and intimidation from both church and state. They try to behave appropriately and achieve personal happiness while negotiating an elaborate web of mutual distrust. This is why, according to Guy Joosten, "Don Carlo" derives most of its power from the intimate encounters between its characters, their elegant dialogue and emotions communicated by the music in between the lines.
Several young soloists make their role debuts in leading parts: Gianluca Terranova, who has achieved international success with the great tenor roles of the Italian repertoire, makes his debut at the Deutsche Oper am Rhein as Don Carlo. Following her appearances as Gilda, Luisa Miller and Violetta, Olesya Golovneva will make her debut as Elisabetta in Düsseldorf, as will Laimonas Pautienius as Rodrigo di Posa and Ramona Zaharia as Eboli. Adrian Sâmpetrean will appear as King Filippo II, Sami Luttinen as the Grand Inquisitor and Torben Jürgens as the Monk alongside other soloists and both the Chorus and Additional Chorus of the Deutsche Oper am Rhein. The orchestra is the Düsseldorfer Symphoniker.
For more information on "Don Carlo," please visit: http://www.operamrhein.de.
Düsseldorf's tourism office is offering hotel and city specials for music and art-related stays and other visits in 2016. Packages can be booked right from the tourism office's website at http://www.visitduesseldorf.de/hotelpackages. Prices start at €70.00 per night per person based on double-occupancy for a 2-3-star hotel in the city center. The packages include breakfast, one DüsseldorfCard (free public transportation within city limits plus 30 free or reduced admissions to city attractions), and a museum admission ticket. Please check the website for current information.
Düsseldorf's tourism office also offers guided tours for art enthusiasts. Please visit http://www.visitduesseldorf.de for more information.
Düsseldorf Marketing & Tourism GmbH is the visitors and convention bureau of the city of Düsseldorf. Its responsibilities include tourism and city marketing, as well as conference and meeting marketing, hotel reservation services, fairs and convention services, city event ticket sales and advance ticket reservations. For more information, visit http://www.visitduesseldorf.de.