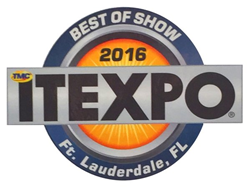 Our entire team worked hard to make sure the new DID Wizard would be ready in time to debut at the ITEXPO. To have it win an award in this particular category made all the work even more worthwhile. -- Jason Tapolci, President of VoIP Innovations
Pittsburgh, PA (PRWEB) February 03, 2016
VoIP Innovations, a premier wholesale VoIP carrier, announced today that it was awarded ITEXPO's "Best of Show" Award in recognition of its outstanding contributions in advancing the field of IP Communications. The ITEXPO was held January 25-28, 2016, at the Greater Ft. Lauderdale/Broward County Convention Center, Ft. Lauderdale, Florida.
Launched at the ITEXPO, VoIP Innovations' new DID Wizard and Personal DID Inventory was chosen as "Best On-Site Product Launch." With a cleaner interface, the DID Wizard offers a streamlined process when ordering DIDs in multiple rate centers or tiers. It also created a faster checkout and automated ordering for your account. DIDs can now be configured in a systematic manner enabling features such as Caller ID, 411, e911, conference lines, fax-to-email, and more.
The new Personal DID Inventory enables customers to purchase DIDs and store them as inactive until ready for use, and also includes an auto-fill feature ensuring that their personal DID storage is never depleted.
"Our entire team worked so hard to make sure the new DID Wizard would not only align with our Brand Promise to provide choice, automation, and control to save our customers time, but also be ready in time to debut at the ITEXPO. To have it win an award in this particular category made all the work even more worthwhile," said Jason Tapolci, President of VoIP Innovations.
At ITEXPO, executives, engineers, technology buyers, sellers, resellers, business owners, and manufacturers from companies of all sizes and industries assembled to forge new business partnerships, collaborate and learn together and from one another. Dozens of conference sessions, keynotes, and panels focused on helping attendees move their businesses forward with communications solutions. Several key members of the VoIP Innovations' team were in attendance as well as Joe Aponick, Systems Engineer, who spoke about fraud in the VoIP industry.
For recent ITEXPO news and information follow the event on Twitter for updates at @ITEXPO and @VoIPInnovations.
About VoIP Innovations:
VoIP Innovations is an Inc. 5000 company that specializes in providing the largest DID and termination VoIP footprints in North America. Their network includes over 500,000 DIDs in stock in over 8,500 rate centers in the US and Canada. Recently, VoIP Innovations expanded their footprint to include DIDs in over 60 countries and now offers A-Z termination. VoIP Innovations is owned by ABG Capital and is based in Pittsburgh, PA. To learn more, please visit the VoIP Innovations Blog.