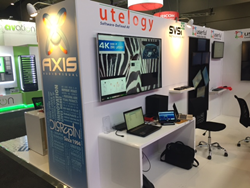 This future direction is what our product selection is based on and why we wanted to partner with Utelogy," explained Gerry Raffaut, Managing Director at Axis Audio Visual
Los Angeles, CA (PRWEB) February 04, 2016
Utelogy, the creator of control and management software for audiovisual systems for use in business and education, has signed a strategic partnership agreement whereby Axis Audio Visual will be the exclusive distributor of Utelogy Software within Australia, New Zealand and neighboring South Pacific islands.
Utelogy Corporation provides Software-Defined audiovisual (SDAV) technology for control, management and analytics for smart classrooms, conference rooms and video-conference rooms. Using an open architecture, the Utelogy platform enables AV and IT departments to build more flexibility into its meeting space for easy reconfigurations and equipment re-use. With its help-desk and remote monitoring capabilities, Utelogy also delivers operational savings.
Axis Audio Visual (Axis AV) is an independent importer and distributor of professional audio visual products throughout Australia and New Zealand. Axis AV entered the world of Pro AV in 1992 and has continued to innovate by carefully selecting the products and partners it works with. The company focus is to bring best of breed product and solutions with exceptional reliability.
"Axis AV has witnessed and been a part of the creation of AVIT and we believe it's the standard for Pro AV installations today and tomorrow. This future direction is what our product selection is based on and why we wanted to partner with Utelogy," explained Gerry Raffaut, Managing Director at Axis Audio Visual.
Frank Pellkofer, Utelogy's co-founder and CEO added, "Axis AV understands the IT ecosystem and how it supports future collaboration technologies. We're excited to have Gerry and his team represent Utelogy and build international exposure throughout Australia, New Zealand and the South Pacific."
About Utelogy Corporation:
Started in 2009, Utelogy Corporation publishes an enterprise technology control and management platform without limits. Utelogy is a flexible, scalable software solution for control and management of AV systems that puts the power in the hands of the user. http://www.utelogy.com
About Axis Audio Visual:
Since 1992, Axis Audio Visual has continued to innovate Pro AV by carefully selecting the products it distributes. It has defined its place in the AV marketplace by only seeking manufacturers that firmly focus their engineering efforts on one product type. With offices in Australia and New Zealand, Axis Audio Visual is the Pro AV distributor of record with its innovation and world class firsts. http://www.axisav.com.au.