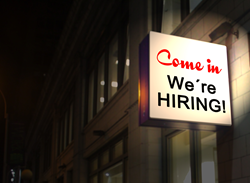 There are some tricks that can help you build a better candidate pool. And, once you've got a bigger pool, there are tools you can use to help identify the best employees
St. Paul, MN (PRWEB) February 03, 2016
HindSite Software, the premier provider of field service software to the green industry, recently announced a new webinar designed to help green industry businesses hire better employees in 2016. Scheduled from 1 to 2 p.m. Central Time on Wednesday, February 10, 15 Tips to Help You Hire Better Employees in Your Green Industry Business, will deliver 15 ideas green industry businesses can leverage to hire great employees in 2016.
For many green industry businesses, finding good employees is difficult. They lack the budget and resources necessary to create great recruiting programs. Because they're typically small, privately-owned businesses, they also often lack the perks and benefits of larger, more established businesses. Throw in that they typically have relatively high turnover, and hiring effectively can be a key to growing their business.
"According to a recent survey of Green Industry Businesses we conducted, hiring is difficult for the average green industry business," explains Chad Reinholz, Marketing Manager at Hindsite Software. "Nearly 80% of respondents indicated it was either somewhat or very difficult finding employees. "
The webinar will focus on 15 tips human resources and recruiting professionals typically use to attract candidates and then identify good employees. Among the tips that will be discussed include:

Why leveraging employees is important when trying to discover good candidates and low-cost ways to leverage those employees.
Why writing good job descriptions will save you time – and help you get better candidates.
What passive candidates are and how to leverage online tools like LinkedIn and Indeed to find them.
"Finding employees is certainly difficult in the green industry," Reinholz said. "But there are some tricks that can help you build a better candidate pool. And, once you've got a bigger pool, there are tools you can use to help identify the best employees."
Reference checks are an example of an underutilized tool employers can use to identify good employees. Many companies have stopped performing reference checks because they get very little usable information from them. But new web-based tools have made it much easier to conduct reference checks – and to get more valuable information from those checks.
Reinholz will present 15 hiring tips during the webinar, which will be followed by a 15 minute question and answer session. Green industry business owners interested in attending can visit http://info.hindsitesoftware.com/15-tips-to-hire-better-employees-in-your-green-industry-business for more information and to register.
About HindSite Software
HindSite Software has helped contractors better manage and grow their business with field service software since 2001. Initially designed as irrigation business software, HindSite today assists service businesses with scheduling and billing, contact management, field data collection, and invoicing in QuickBooks®, and Sage50®. When used by lawn care businesses, this paperless lawn care software has been proven to increase efficiency and organization, meaning greater profit potential with less administrative time.