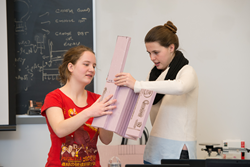 Since its founding, Olin College has made a commitment to ensuring an Olin education is financially within reach for all students. We are all too aware that for many students, the college they want to attend may not be the one they can afford to attend.
(PRWEB) February 05, 2016
Olin College is one of the nation's best colleges for students seeking a great education at an affordable price, according to The Princeton Review. The education services company profiles Olin College in its just-published book, Colleges That Pay You Back: The 200 Schools That Give You the Best Bang for Your Tuition Buck, and on its website. Olin also made the list of schools with top internship opportunities, coming in at #7.
The Princeton Review chose Olin as one of its schools based on the return on investment (ROI) ratings it tallied for hundreds of schools last year. The ratings weighed 40 data points that covered everything from academics, cost, and financial aid to graduation rates, student debt, and alumni salaries and job satisfaction. The Princeton Review editors culled data from the company's surveys of administrators and students in 2014-2015 and from PayScale.com's surveys of school alumni conducted through April 2015.
In its profile of Olin, the book's editors at The Princeton Review wrote, "All enrolled students receive a 50 percent scholarship, and Olin works to meet 100 percent of demonstrated need beyond that. This makes the school quite the bargain, especially considering its reputation among employers. The senior-year capstone project is quite a foot in the door for young engineers entering the workforce." The Olin students surveyed for this profile remarked, "Professors are one of the best—if not the best—part of Olin and are . . . always available, always knowledgeable, [and] always approachable."
Olin College President Richard K. Miller says,"Since its founding, Olin College has made a commitment to ensuring an Olin education is financially within reach for all students. We are all too aware that for many students, the college they want to attend may not be the one they can afford to attend. We continue to provide generous need-based aid, need-blind admission decisions, and also half-tuition scholarships, so that an excellent engineering education can be available for families regardless of means."
Robert Franek, Princeton Review's Senior VP/Publisher, says, "We highly recommend Olin College, and all of our 'Colleges That Pay You Back' schools. They stand out not only for their outstanding academics but also for their affordability via comparatively low sticker prices and/or generous financial aid to students with need—or both."