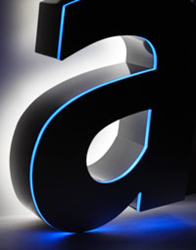 We have developed several different solutions, like LetterBox, LetterForm, and LiquiLetter to better enable our customers to create high impact signage.
Boulder, CO (PRWEB) February 05, 2016
AdamsTech, distributor of the SDS ChannelBender series of channel letter benders, has been recognized as the premier innovator and visionary provider of equipment and technology for channel letters and other dimensional letters. Sign Builder Illustrated (SBI), the sign industry's leading trade magazine and website, identified and honored AdamsTech as the 2016 Trendsetter for the category "Channel Letter Benders." This Trendsetter designation recognizes AdamsTech for its contributions to the sign industry as "An Innovator and visionary of signage." The article can be found here: TRENDSETTER
For almost 20 years, AdamsTech has been providing and servicing automated metal bending machines. As the inventors and original patent holders of this type of technology, AdamsTech and its partners have regularly challenged the status quo. Not content to simply develop and market "me too" products, they have identified and invented real solutions that have revolutionized the industries we serve. The latest innovations have to do with the trend toward Trimless® channel letters.
"The ChannelBender series, our line of automated channel letter benders, is the fastest, most reliable, and most precise technology available," according to James Cross, product manager for the sign industry. "Our patented, proprietary LetterBox® and brand new LetterForm™ coil materials – which can only be processed on our Super ChannelBender and Eco ChannelBender – have brought Trimless channel letter fabrication into the 21st century. Our UL-approved proprietary LiquiLetter® resin process allows for the fabrication of low-profile channel letters as shallow as 3/4" yet still delivers outstanding illumination characteristics. AdamsTech developed these innovations as a direct response to sign builders' demands."
AdamsTech has the very best service and support infrastructure in this industry. Based here in the USA, the headquarters, showroom, and replacement parts inventory are located in Boulder, Colorado. Regional service offices are also located in New Jersey, Missouri, and California, covering every time zone. The company's ongoing mission is to develop and find innovative solutions that enable customers to maximize the productivity, quality, and profitability of sign making.
Visit http://www.channelbender.com for more information, or call 303-798-7110.
About AdamsTech
AdamsTech is the exclusive distributor for the SDS ChannelBender series of channel letter benders, along with other equipment and supplies for the fabrication of all types of letters and logos, including Trimless channel letters. The company introduced the first version of the patented technology in 1996, and continues to work with the signage and design community to identify and develop new and innovative solutions to the needs of sign makers. AdamsTech continues to work with our global manufacturing partners to continuously refine and improve automated metal fabrication processes and technologies. More information on AdamsTech can be found at http://www.adamstech.com