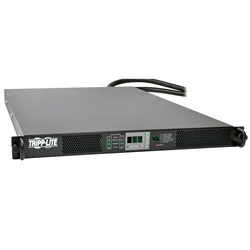 this ATS PDU series allows high-density data center designers an architectural choice that has never existed before
Chicago, IL (PRWEB) February 04, 2016
Tripp Lite, a world-leading manufacturer of power protection and connectivity solutions, has introduced an innovative line of 3-phase rack-mount ATS Power Distribution Units (PDUs). These new 1U rack-mount automatic transfer switches (ATS) work with compatible 0U PDUs to deliver up to 17.3 kW of redundant 208V AC power to data center servers, storage and network equipment. The ATS units also feature a network interface for remote power monitoring.
Universally, various combinations of UPS systems, generators, transfer switches and utility power combine to deliver primary and secondary power feeds to data center racks. To avoid reliance on a single upstream power path, rack equipment is commonly deployed with multiple power supplies. When single-corded rack devices exist, such as top-of-rack switches, single-phase rack ATS switches are deployed to deliver the benefits of upstream power redundancy to the rack. Similarly, single-corded servers can be powered by single-phase ATS up to 30 amps (~5 kW) and avoid dependence on a single rack power feed. Above 5 kW that strategy has not been available, until now.
Tripp Lite's 3-phase rack-mount ATS PDUs, with 30-amp to 60-amp input options, can deliver 8.6 to 17.3 kW of redundant, reliable power to single- or dual-corded rack loads with very high energy efficiency and a compact form factor. This power strategy saves valuable in-rack space, improves airflow and reduces hardware costs. By deploying single-corded servers in high-density server racks, users can easily save thousands of dollars in hardware deployment costs.
The 3-phase ATS PDUs have dual inputs for connection to separate primary and secondary 3-phase power sources, including out-of-phase sources, separate mains circuits, backup generators, and even separate utility power grid feeds. This ability to use any two compatible 208V AC power sources offers outstanding flexibility for a variety of advanced redundant power applications.
Hybrid solid-state switching provides reliable transfer between power sources in just 1 to 5 milliseconds to keep connected equipment running without interruption. An on-board ATS processor constantly evaluates power quality on both input sources to prevent transfer to the secondary source when it's unavailable or of lower quality than the primary source
Key Features

Dual inputs for connection to primary and secondary 3-phase power sources
Hybrid solid-state switching for reliable high-speed transfer in 1 to 5 milliseconds
ATS processor for evaluating power source quality
Operational efficiency greater than 99%
Digital load meter and status LEDs for local monitoring
Built-in network interface for remote monitoring
"We believe this ATS PDU series allows high-density data center designers an architectural choice that has never existed before," said David Slotten, Tripp Lite Vice President of Product Marketing. "Dual power source inputs, solid-state switching and remote monitoring at these 3-phase power levels will save data center operators thousands of dollars per rack over alternative in-rack power strategies."
For more information on the new 3-Phase PDUs, visit: Tripp Lite 3-Phase Rack ATS PDUs
About Tripp Lite
Outstanding product reliability and exceptional service have been Tripp Lite trademarks for over 90 years. Tripp Lite´s innovations include the world's first UPS system designed specifically for personal computers and the world's most trusted premium surge suppressor—the Isobar®—with more than 19 million in use. Tripp Lite maintains the highest level of ready-to-ship inventory in the industry with more than 3,000 different products, including UPS systems, rack systems and cooling solutions, PDUs, PowerAlert software for enterprise-level system management and control, surge suppressors, KVM switches, cables and connectivity products, inverters, power strips and notebook accessories. Headquartered in Chicago, Illinois, Tripp Lite maintains a global presence with fully staffed offices worldwide. Additional information, including a list of Tripp Lite's sales offices and authorized reseller partners, can be found by visiting Tripp Lite's website: http://www.tripplite.com.