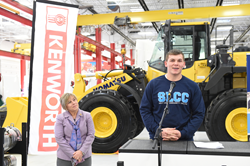 What you're seeing here today is very unique, and it's very special.
Salt Lake City, Utah (PRWEB) February 04, 2016
Salt Lake Community College is an education partner in a new program that will allow high school students in Utah to more quickly integrate into a career path in the diesel technician field.
Gov. Gary Herbert, SLCC President Deneece G. Huftalin and others during a press conference on Feb. 2 announced details about Utah Diesel Technician Pathways. Herbert said the program offers students more opportunities to succeed in one of the strongest state economies in the country. "I see the future of Utah, and it's very bright," Herbert said. Huftalin called it a "great day" for SLCC, which she said will help students toward "meaningful, lucrative and rewarding careers" as diesel technicians.
The program's industry partners include Cummins Rocky Mountain, Jackson Group, Peterbilt, Komatsu Equipment Corporation, Mountain West Truck Center, Volvo, Mack, Wheeler Cat Machinery and Kenworth Sales Company.
"What you're seeing here today is very unique, and it's very special," said Brady Southwick, president of Cummins Rocky Mountain, site of the press conference. "This actually represents a partnership between government, industry leaders as well as education to create careers for all of the students you see here and to create a much brighter future for them."
Initiated by the Governor's Office of Education, the Utah System of Higher Education, SLCC and the Canyons and Jordan school districts, the program's focus is to encourage students to take diesel tech classes in high school and then continue at SLCC in the diesel technician programs for a certificate of completion or an associate of applied science degree. Industry partners will invite students to participate in internships at their locations. Kyle Treadway, president of Kenworth Sales Company, said diesel technician students are entering careers that start in the $40,000 range and can move up to about $100,000 within five years. Treadway added that diesel tech programs nationwide are graduating about 3,500 students a year but that the need is much higher as nearly one third of the country's estimated 600,000 diesel tech workers are leaving due to attrition and retirement. "You can do the math yourself," he said. "There is opportunity out there nationwide. … We want to talk to you."
Weston Emphenour said starting out in high school at Canyons Technical Education Center helped better prepare him for transferring to SLCC's diesel program. "The instructors at SLCC are really great," Emphenour said, adding that the "hands-on" learning environment and "real world" experiences make a difference moving forward with a career.
Salt Lake Community College is an accredited, student-focused, comprehensive community college meeting the diverse needs of the Salt Lake community. Home to more than 60,000 students each year, the College is Utah's leading provider of workforce development programs. SLCC is also the largest supplier of transfer students to Utah's four-year institutions and a perennial Top 10 college nationally for total associate degrees awarded. The College is the sole provider of applied technology courses in the Salt Lake area, with multiple locations, an eCampus, and nearly 1,000 continuing education sites located throughout the Salt Lake Valley. Personal attention from an excellent faculty is paramount at the College, which maintains an average class size of 20.