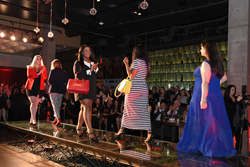 I am both humbled and proud to have created something that not only resonates with women, but makes them look and feel confident, sexy and beautiful
Costa Mesa, California (PRWEB) February 04, 2016
Couture fashion line, Ember Lynn Designs, made a powerful entrance into the plus-size world of fashion at their inaugural launch party. Hosted at AnQi, the premier venue for upscale fashion shows and celebrations, the evening included celebrity guests, mainstream media, gourmet cuisine, craft cocktails, live music, and exclusive gifts.
The primary focus of the event, however, was the fashion show, which showcased the latest collections from Ember Lynn Designs and was emceed by celebrity host, Loni Love. The actress and comedian (@LoniLove) stated during her opening speech that she was there to represent full-figured women like herself that want to look and feel sexy.
The runway show featured an array of high-end, fashion-forward designs, worn by top plus-size models from Los Angeles and New York. With looks ranging from sophisticated blazers to casual maxi dresses, the sleek silhouettes and day-to-night designs resonated with the Ember Lynn audience and created more buzz around the brand.
Among the attendees were various media outlets, fashion bloggers, buyers, and special guests. Hayley Herms of SKORCH Magazine, a plus-size fashion magazine, describes her experience at the launch party and fashion show, saying, "Founder, Debra Aruffo was truly humble about her super chic and trendy line. Ember Lynn Designs had colorful and well-constructed pieces any plus-size woman needs for the upcoming seasons!"
Debra Aruffo, founder and creator of Ember Lynn Designs, is thrilled with the outcome of Ember Lynn Designs' debut. "After months of planning, it was incredible to see the event, the fashion show, the Ember Lynn line, all come together. I am both humbled and proud to have created something that not only resonates with women, but makes them look and feel confident, sexy and beautiful. It is the very reason I created Ember Lynn Designs and is the reason I'll continue to pursue my passion."
For more information on Ember Lynn Designs and to preview the 2016/2017 collections, visit the Ember Lynn Designs website and connect with the brand on social media @EmberLynnDesign.
About Ember Lynn Designs:
Ember Lynn Designs is a high-end, plus-size clothing line, and is the creation of Debra Aruffo, a successful entrepreneur who came face to face with a problem. Inspired by her own struggles with finding flattering, full-figured fashions, Debra became passionate about creating a line that fit her lifestyle and the lifestyle of millions of other plus-size women facing these same challenges. Ember Lynn Designs was born.
Emboldened by her business success with her consultancy, Debra believes that she qualifies as the ambassador for all full-figured women in search of flattering styles, beautiful fabrics and sharp lines that accentuate the hourglass silhouette. Ember Lynn Designs' promise is simple, elegant, sophisticated fashion—using quality materials and a keen attention to detail to cater to the full-figured woman. Ember Lynn Design's mission is to create high-end, beautiful fashions for the plus-size body type.