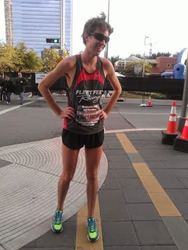 "Tommy brings enthusiasm and dedication to everything he does. The same commitment its take to run and compete at the highest level, he brings into the classroom and the students benefit greatly from that." - Principal Pickerill
Middletown, Ohio (PRWEB) February 09, 2016
Tommy Kauffmann, 26, of Cincinnati, OH is among the nation's faster runners and will compete in the marathon to qualify for the 2016 Summer Olympics to be held in Rio de Janiero this August. On Wednesday, February 10th, the school will host a special celebration to honor his hard work and wish him well at the Olympic trial on February 13th, 2016 in Los Angeles, California.
A graduate of Xavier University and a social studies teacher for grades 6, 7 and 8 at St. John XXIII Catholic School in Middletown, Ohio, Tommy is a favorite of the students and school community. "Tommy brings enthusiasm and dedication to everything he does. The same commitment its take to run and compete at the highest level, he brings into the classroom and the students benefit greatly from that," said Principal Dawn Pickerill. Mr. Kauffmann will compete in the Male age 25 – 29 division for which he qualified by posting a time of 1:04:33 in (date/name of qualifier), running a 4:56 pace.
The school community will be giving Tommy a proper send-off celebration before the big race next week, placing a vinyl banner out in front of school over the upcoming weekend and surprising him with posters made by students in his room next Tuesday night. For Wednesday's celebration on the 10th, the school is hosting a celebration starting at 8:30am with a special mass followed by a blessing from Holy Trinity Parish priest, Father Civille. A gift from the staff will also be presented and students will build a celebration tunnel for Tommy to run through with his homeroom 7th graders holding a "break-through banner" at the end.
About St. John XXIII Catholic School:
St. John XXIII represents 150 years of Catholic Education dedicated to encouraging and developing well-rounded, self-confident and compassionate children and young adults who lead successful, mindful, service-driven lives. We are committed to providing a challenging, structured and right-sized learning environment led by highly qualified and experienced teachers. Our school community is the foundation on which our core principles of faith and hard work bind us together as a family.
ST. JOHN XXIII: TRADITIONAL VALUES. EXCEPTIONAL EDUCATION.