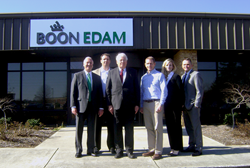 I am thrilled that Boon Edam's expansion has created hundreds of jobs in the Fourth District, and I look forward to supporting the company's ongoing relationship with North Carolina. Rep. David Price (NC-4)
Lillington, NC (PRWEB) February 03, 2016
Boon Edam Inc., a global leader in security entrances and architectural revolving doors, was honored to receive a specially scheduled visit on Monday, February 1st by U.S. Congressman David E. Price, who represents the 4th District in North Carolina.
The Congressman began his visit by meeting with the management team at Boon Edam to learn more about the company and its solutions. CEO Mark Borto shared that strong growth in the security industry had supported double digit annual increases in revenue for Boon Edam in recent years, spurring the company to hire over 100 people in the last four years to keep up with the increased demand for security entrances. When the Congressman asked what our products do, Borto replied, "Boon Edam's security entrances are used to mitigate risk, to fix 'the hole' in buildings created when a secured door is opened and another person tailgates behind the authorized individual. Our security entrances are typically deployed at main entrance lobbies, employee entrances, and higher security interior doors."
The Congressman was then given a tour of the 275,000 sq. ft. factory and the product showroom to see firsthand how the products are manufactured and how they operate to stop tailgating. Rep. Price noted that he had seen several types of security entrance products in federal buildings in Washington D.C. Boon Edam's security entrances are currently deployed in many federal and military facilities around the USA, and many are equipped with two-factor or multi-factor authentication systems to ensure the identity of the user is verified prior to entry.
"I enjoyed learning about the innovative work underway at Boon Edam's Lillington facility," said Congressman Price. "I am thrilled that Boon Edam's expansion has created hundreds of jobs in the Fourth District, and I look forward to supporting the company's ongoing relationship with North Carolina for many years to come."
For Further Information, Please Contact:
Tracie Thomas
Marketing Manager
T 910 814 8113
E tts(at)boonedam(dot)us
For Media Queries, Please Contact:
Bruce Doneff
Public Relations
T 843 476 3022
E doneff(at)verizon(dot)net
About Royal Boon Edam
With work environments becoming increasingly global and dynamic, the entry has become the center of activity in and around many buildings. As the importance of the entry as a mobility hotspot increases, the demands we put on managing the passage of people through them grow. Royal Boon Edam is a global market leader in entry solutions. Headquartered in the Netherlands, with 140 years of experience in engineering quality, we have gained extensive expertise in managing the movement of people through office buildings, airports, healthcare facilities, hotels and many other types of buildings. We are focused on providing an optimal experience for our clients and their clients. By working together with you, our client, we help determine the exact requirements for the mobility hotspot in and around your building and develop a solution that is customized for you in three key areas: sustainability, security and service. You can find more news about Boon Edam on http://www.boonedam.us/newsroom.