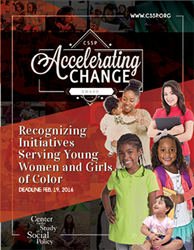 "It's time we change the narrative about young women and girls of color."
WASHINGTON, D.C. (PRWEB) February 03, 2016
Young women and girls of color—especially those involved in public systems like child welfare and juvenile justice—face a unique and alarming trajectory that puts them at risk of poor outcomes in life. To uplift organizations, programs and practices that interrupt that trajectory, the Center for the Study of Social Policy (CSSP, @CtrSocialPolicy) has instituted the Accelerating Change Award.
Innovative initiatives with evidence of strong results serving or advocating on behalf of this population are invited to apply. Awardees will receive national recognition, a small honorarium to support their work and the opportunity to join a network of similar high-performing initiatives. Applications are due February 19, 2016.
"It's time we change the narrative about young women and girls of color," said Tashira Halyard, CSSP senior associate and lead for our Alliance for Racial Equity in Child Welfare. "So many young women who experience negative outcomes like homelessness and criminal justice involvement have a history of foster care, which means they've experienced some kind of trauma. Rather than perpetuating an abuse-to-prison pipeline, we need to support these young women as crucial to our nation's future."
"With this award, we will honor those organizations working tirelessly to dismantle this pipeline and set up young women and girls of color for success."
This award celebrates the most compelling and creative interventions making a difference in young women and girls' everyday lives.
Young women and girls of color are disproportionately represented in public systems that intervene in their lives and sometimes separate them from their families and communities. These systems include child welfare, juvenile justice, mental health, runaway and homeless services and criminal justice. Rarely are these systems equipped to address the multiple intersections of marginalization and trauma these young women have experienced. For example, girls in juvenile facilities report higher numbers of emotional or mental problems and traumatic experiences: 42 percent of girls report past physical abuse, 44 percent of girls report past suicide attempts and 35 percent of girls report past sexual abuse.
Moreover, deeper system involvement increases their exposure to trauma, increases the risk that they'll face additional abuse within the system, increases their need for mental health care and diminishes their chances of successfully completing their education and finding employment with a livable wage.
"Each day, however, we work with agencies, jurisdictions and programs that are attempting to make a difference in young women's lives," said Halyard. "We want to amplify their voices and help other organizations replicate their techniques and results."
Interested organizations can find more information at http://www.cssp.org/accelerating-change-award. Applicants have the choice to complete a PDF application or an online application. The deadline to apply is Feb. 19, 2016. Applications will be reviewed by CSSP's Accelerating Change Award team by March 4, 2016. After the initial review, the team will contact the finalists to arrange an interview via conference call between March 9th and March 23rd. Applicants will be notified of their selection by March 30th.
An informational webinar to learn more and ask questions about the Accelerating Change Award is scheduled for Feb. 10 at 3 p.m. To register to attend, visit: https://attendee.gotowebinar.com/register/1532739372663455746.
--
The Center for the Study of Social Policy is a national organization recognized for its leadership in shaping policy, reforming public systems and building the capacity of communities. We support elected officials, public administrators, families and neighborhood residents to take the actions they need. Our goal is to make sure children can learn, develop and thrive with the support of strong families, in safe and healthy communities. Visit us online at http://www.cssp.org and join our conversations on Facebook, Twitter and YouTube.