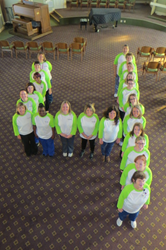 "One successful survey is an accomplishment, but four years in a row are amazing!" said Stan Kappers, Mount Pleasant executive director.
Monroe, OH (PRWEB) February 05, 2016
Mount Pleasant Retirement Village received their fourth consecutive deficiency-free state survey in their skilled nursing and assisted living areas in January. The Ohio Department of Health's Division of Quality Assurance regulates health care facilities through both state licensure and federal certification rules. The Bureau of Long Term Care Quality conducts annual on-site inspections/surveys for compliance with state and federal rules and regulations in nursing homes/facilities. The inspections ensure the quality of care and quality of life for residents of nursing homes and residential care facilities, also known as assisted living facilities.
"One successful survey is an accomplishment, but four years in a row are amazing!" said Stan Kappers, Mount Pleasant executive director. "I am very proud of my entire team and how they continuously demonstrate our Mission in their tremendous care of our residents."
Josie Browning-Haney, administrator of Mount Pleasant, said, "All of us at Mount Pleasant are extremely proud to announce the results of another perfect survey. Because of the dedication, talent, and compassion of our staff, we continue to take pride in both our survey history and five star rating."
A "Grand Slam" week of celebration among staff and residents has been planned to recognize this outstanding achievement.
For more information on Mount Pleasant Retirement Village and their retirement living options, call 513.539.7391 or go to http://www.mountpleasantohio.org/.
Mount Pleasant Retirement Village
Mount Pleasant Retirement Village is a full continuum of care campus offering Independent Living , Assisted Living, Alzheimer's Care, Skilled Nursing & Rehabilitation. Mount Pleasant is one of 12 retirement communities owned and operated by OPRS Communities, a wholly owned subsidiary of Ohio Presbyterian Retirement Services (OPRS), headquartered in Columbus Ohio. Since 1922, OPRS has defined the highest standards of quality of life for older adults. Each year, OPRS serves more than 73,000 annually through its wholly owned subsidiaries OPRS Communities and Senior Independence. Senior Independence provides home and community based services, operates adult day centers and manages two senior centers, in partnership with local governments. In addition, Senior Independence services are extended nationwide through its iPartners. Another wholly owned subsidiary, the OPRS Foundation raises several million dollars annually to support charity care, special programs, capital expansion and endowment.