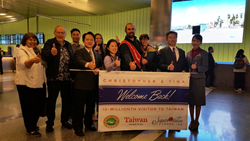 Los Angeles, CA (PRWEB) February 03, 2016
Taiwan successfully achieved its status as a prime tourism country marking the first 10 millionth overseas visitor in December 2015. The lucky traveler was showered with a heartwarming welcome along with gifts valued at 1 Million NTD (approximately $30,000 USD) upon arrival in Taiwan from the Tourism Bureau. Christopher Manuele, the first 10 millionth Taiwan visitor, is from southern California; He returned with his wife on New Year's Day at the Los Angeles International Airport (LAX) on a China Airlines flight. They were welcomed by Taiwan Tourism Bureau in Los Angeles and celebrated the achievement of Taiwan emerging as a prime tourism destination.
Christopher Manuele, 34, is a software engineer from Southern California. This trip was his first visit to Taiwan with his wife, a native Californian whom he has been married to for two and a half years. During their two-week stay in Taiwan, they had an amazing time visiting night markets and experiencing local snacks like the stinky tofu and pineapple cakes. Aside from the beautiful scenery in Taiwan, Christopher was particularly impressed by the incredibly warm and friendly people of the lovely island. He felt extremely honored to be the first 10 millionth overseas visitor in Taiwan; It is a very meaningful memory to their first visit in Taiwan. The couple shared their trip pictures at the press event, and expressed their desire to visit Taiwan again in the near future.
To celebrate Taiwan's 10 millionth foreign visitor, Taiwan Tourism Bureau in Los Angeles welcomed the return of this lucky traveler with gifts and a press event at the LAX. The event marked a perfect ending for the record visitor's first Taiwan trip; It was also a great opportunity to introduce a lot of the appealing Taiwan tourism products to the American market .
According to Mr. Brad Shih, Director of Taiwan Tourism Bureau in Los Angeles, the Bureau is catering to different tourists' needs and partnering with local quality travel tour operators to provide customized tour packages that continuously provide the latest tourism trends in Taiwan. The warm hospitality and friendliness of Taiwanese people is a contributing factor to attracting the international tourists to experience Taiwan's diversity and local lifestyle. World renowned travel outlets including Lonely Planet and the New York Times, which in consecutive years and continuously recommends Taiwan as one of the best global destinations. The achievement of receiving the 10 millionth overseas tourist only indicates a new beginning of the ongoing marketing effort to promote Taiwan Tourism. The goal is to make Taiwan a fun, convenient and friendly tourist destination.
For those who are interested in traveling to Taiwan, Taiwan Tourism Bureau cordially invites you to join the Los Angeles office's fan page at http://www.facebook.com/TourTaiwan for the latest Taiwan tourism information and staying up-to-date on fun Taiwan tourism events in Southern California.