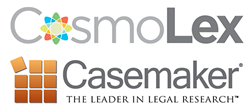 By entering into this exclusive technology partnership with CosmoLex we have ensured that our users will be able to easily keep track of the time they spend on research and accurately bill their clients
North Brunswick, NJ (PRWEB) February 04, 2016
CosmoLex, a leading cloud-based, law practice management software provider, has announced an exclusive integration with the industry leader in legal research, Casemaker.
Casemaker becomes the latest legal technology to integrate with the CosmoLex practice management system.
"Back in October we made our intentions clear, that we were looking to create a legal technology ecosystem that allowed integration with some of the most valuable legal technologies lawyers use." said Rick Kabra, CEO of CosmoLex. "Becoming an exclusive integration partner with Casemaker is another step in that direction, and is a big win for both CosmoLex and Casemaker users."
With partnerships across more than 25 Bar Associations and 250,000 users, Casemaker provides legal research to attorneys across the United States.
The exclusive partnership will allow for attorneys to easily and accurately keep time spent while researching different matters for clients. Time spent on research in Casemaker's libraries can now be posted to specific matters for future billing without leaving Casemaker. Likewise, CosmoLex users can now perform legal research all within CosmoLex.
"Legal research is an extremely important aspect of any attorney's job. Unfortunately, in the past our clients have experienced difficulty in accurately billing clients appropriately for the time spent researching specific matters." said Dave Harriman, CEO of Casemaker. "By entering into this exclusive technology partnership with CosmoLex we have ensured that our users will be able to easily keep track of the time they spend on research and accurately bill their clients."
About CosmoLex
CosmoLex®, the leader in legal practice management software that includes all the tools needed to efficiently manage a law firm under one login. With clients in 47 states CosmoLex allows firms to handle legal billing, law firm accounting, and legal practice management in one seamless service delivered via the cloud. CosmoLex saves firms time and money while keeping compliance top of mind. Read more about CosmoLex at http://www.cosmolex.com. For ongoing news, please go to http://www.cosmolex.com/about/news-events.
About Casemaker
Casemaker®, the leader in legal research, has been committed to providing attorneys a quality low-cost solution to legal research since 1999. With the finest editorial team and state-of-the-art technology to increase speed and search functionality, Casemaker has established partnerships with over 25 Bar Associations and serves more than 250,000 users. Casemaker offers an extremely intuitive search engine, accurate citation services, and brand new organizational features that make research fast and easy. Read more about Casemaker at http://www.casemakerlegal.com