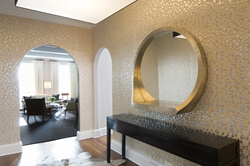 We are honored to be selected for such a prestigious event and to be in the company of such talented designers
New York, NY (PRWEB) February 04, 2016
Sean Juneja and Markus Weber, co-founders of interior design start-up Decor Aid, will showcase their design talent and philanthropic spirit as they participate in Housing Works' inaugural Design on a Dime Miami charity event. Décor Aid is one of thirty of the nation's top interior designers to come together for three days of interior design, home décor inspiration and shopping to help raise national awareness and funds for the fight to end the AIDS epidemic.
"We are honored to be selected for such a prestigious event and to be in the company of such talented designers, said Sean Juneja. Adds Markus Weber, "We are thrilled to be at Design on a Dime Miami to support an organization that has done so much to support individuals living with HIV/AIDS and we couldn't have done it without the incredible donations from generous companies like Mitchell Gold+ Bob Williams, Design Within Reach, Desiron, ABC Carpet, Worlds Away, The Shade Store, CB2, illyCafe, ArtStar, and artists Jonathan Glass, Briggs and John Gordon Gauld.
Opening on February 5 at the Moore Building in the Miami Design District, the three-day Design on a Dime event features thirty vignettes with new merchandise, which is donated and then sold for up to 80 percent off retail pricing. Proceeds will benefit Housing Works' Hull Street Residence, a housing development project that will transform a vacant 6,000 sq ft. lot into a beautiful and safe home for 28 single, formerly homeless adults living with HIV/AIDS.
About Decor Aid
Decor Aid, a New York City based firm, was founded by Sean Juneja and Markus Weber in 2014 to make high-quality interior design affordable, accessible and attainable for all. With an in-house, full-time team of award-winning interior designers recruited from the best design firms worldwide, entrance to exclusive showrooms and artisans, passed along trade discounts and unrivalled customer service, Décor Aid permits anyone the access to high-end design at 80% less than traditional firms. Décor Aid is available nationwide with offices in Miami, NY, Chicago, San Francisco, Washington DC, Boston, Philadelphia and London for projects ranging from a room refresh to a complete renovation. For more information about Décor Aid, please visit DecorAid.com and follow on Facebook, Twitter, Instagram, Pinterest and Google+.
About Design On A Dime Miami
For more information about Design on a Dime, please visit http://www.housingworks.org/design-on-a-dime/miami/designers/decor-aid/