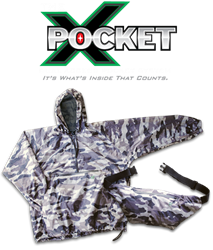 The XPocket will be presented for the first time at the Great American Outdoor Show February 6-14 in Harrisburg, PA.
York, PA (PRWEB) February 03, 2016
To see The XPocket in action, visit booth #16 in the Main Hallway (across from the Archery Hall entrance). For directions to the booth go to this link: http://s15.a2zinc.net/clients/NRA/GAOS2016/Public/EventMap.aspx?ver=html&EventID=8&MapID=24&MapItBoothID=120235&MapItBooth=16
The Great American Outdoor Show is the world's largest outdoor show in Harrisburg, Pennsylvania. It is a 9 day event celebrating hunting, fishing and outdoor traditions that are cherished by millions of Americans. The show features over 1,000 exhibitors, including Jarvis and Keith. The schedule for the show includes, country concerts, dinners, speaking events, seminars and much more.
The, patented, XPocket launches for sale at the outdoor show. Invented by Jarvis Green and Keith Bell, the patented, lightweight breathable pullover converts to sling-pack and offers access to needed cargo in both modes, without changing the cargo's location.
To learn more about the product visit Jarvis and Keith, in person, at the Great American Outdoor Show February 6-14 in Harrisburg, PA at booth #16. To pre-order, visit http://www.thexpocket.com