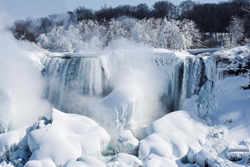 During the winter months hotel rates in Buffalo average up to 20 percent less than those during the peak summer months.
Buffalo, New York (PRWEB) February 04, 2016
There's still time to ice bike, admire a frozen wonder of the world and escape for a day with Claude Monet in one of America's great winter destinations.
Visit Buffalo Niagara is celebrating Western New York's well-known wintry reputation with a series of new discounts, events, exhibits and recently opened attractions. From riding an ice bike on one of the country's largest outdoor skating rinks to admiring masterworks from the Impressionist Revolution at the world-renowned Albright-Knox Art Gallery and seeing the frozen splendor of Niagara Falls State Park, check out all the affordable winter options in Buffalo Niagara.
Catch the Majestic Winter Niagara Falls and Its Frozen Mist
While most travelers flock to Niagara Falls (less than 30 minutes from downtown Buffalo) during the summer months, those in the know head to the mighty waterfall during the winter when crowds are fewer and the mist from the Falls freezes on the surrounding trees creating an enchanting ice-covered forest. For visitors who happen to experience an especially cold string of days, portions of the Falls even appear to freeze. As an added bonus, parking is free during the winter months.
Fifteen Percent Off Admission at The Albright-Knox Art Gallery: Home to Monet and The Impressionist Revolution Exhibit
Art and culture aficionados can explore the Albright-Knox Art Gallery, one of the country's oldest public art institutions and save 15 percent with I Love New York's Museum Discount Coupon, valid through March 31. The Albright-Knox is currently featuring a special exhibit, Monet and The Impressionist Revolution, 1860-1910, highlighting the transformation of Monet's visual practice and how he brought painting to the brink of abstraction. Timed admission (prior to discount) to this exhibit and the museum's permanent collection is $15 for adults, $11 for students and seniors and eight dollars for children, ages six to 12.
Chill with The Polar Bears at The Arctic Edge
The Buffalo Zoo, where visitors can get up close and personal with polar bears at the state-of-the-art Arctic Edge, is also offering special winter discounted tickets of $5 for both adults and children through the month of February (compared to peak admission rates of $12 for adults and $9 dollars for children).
Snowshoe Hikes, Ice Biking and a Hawaiian Luau
Visitors will want to head to Ice at Canalside, the crown jewel of Buffalo's recent billion dollar transformation, and take a ride on a Buffalo original, The Ice Bikes of Buffalo, fitted with a stainless steel frame to allow for easy pedaling and steering on the ice. Ice at Canalside also offers skating, curling and other opportunities for winter fun.
When it is time to take a break from the cold, visitors can head to the Madd Tiki Winter Luau at RiverWorks on February 6. The Hawaiian themed party at one of the waterfront's new hotspots will include professional dance acts, ice carvers, art installations, hula hooping, body painting, a beach bod tattoo stage contest and an appearance by the Guinness Book of World Record holder for the longest limbo.
Winter sports enthusiasts will not want to miss Tifft Nature Preserve, just five minutes from downtown Buffalo but a world away, where snowshoe rentals are available for only $5 ($3 for kids) and on February 18, the preserve will offer guided snowshoe hikes during its Cabin Fever Frolic.
Check in with Special Winter Hotel Packages and Savings of up to 20 Pecent
During the winter months hotel rates in Buffalo average up to 20 percent less than those during the peak summer months. InnBuffalo, the historic inn and former home of industrialist H. H. Hewitt located in the heart of Elmwood Village and minutes from downtown Buffalo, is offering nightly rates from $111 to $199 during the month of February. This is compared to their summer rates of up to $249.
The Hilton Garden Inn located in downtown Buffalo is offering a Winter Family Fun Package that includes accommodations with breakfast for four, a sheet pizza and fountain beverages at the Garden Grille, two adult and two youth ice skating passes (including skate rental) at Ice at Canalside and a 1 p.m. late checkout. Package rates start at $119 and are available through mid-March. For architecture buffs the hotel features a package offering visitors a sneak peak of Frank Lloyd Wright's Darwin Martin House, which is currently being restored to its original splendor, at nightly rates starting at $119.
For more information and to plan a trip to Buffalo visit: http://www.visitbuffaloniagara.com.
About Visit Buffalo Niagara
Visit Buffalo Niagara is the official destination marketing organization for Buffalo and Erie County, New York. Visit Buffalo Niagara sells and markets assets and attractions to visitors outside of the Buffalo Niagara region as a convention, tourism and leisure destination for the economic benefit of the community.
###