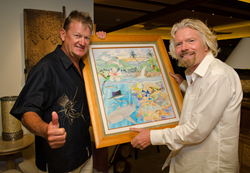 Fort Lauderdale, FL (PRWEB) February 04, 2016
Guy Harvey, Ph.D., world-renowned artist, scientist, diver, angler, conservationist and explorer, will host a Q&A with Sir Richard Branson on ocean conservation and sustainability at the third annual Cayman Alternative Investment Summit (CAIS), an authoritative platform for fresh thinking on alternative investing, at 6:10 p.m. on Friday, February 5. The summit takes place at the Ritz-Carlton, Grand Cayman February 4-5.
The CAIS brings together leading thinkers and practitioners from different segments of the global alternatives industry to explore the challenges and opportunities their industry faces and design responses that will take it to its next level of success.
Dr. Harvey and Sir Richard have collaborated on several marine conservation efforts in the past, including the Caribbean Challenge Initiative and the Guy Harvey Great Shark Race. Branson's Virgin Unite sponsored what turned out to be the winner of the inaugural Guy Harvey Great Shark Race, an innovative race created by the Guy Harvey Ocean Foundation (GHOF) and the Guy Harvey Research Institute (GHRI) at Nova Southeastern University in Florida that allows businesses and individuals to sponsor sharks through the purchase of satellite tracking tags.
These tags enable researchers and the public to follow the tagged fish online in near real time as they travel around the Atlantic Ocean, Caribbean Sea and the Gulf of Mexico. The race consists of two divisions: a Mako Shark Race and an Oceanic Whitetip Shark Race. The shark that covers the greatest distance in six months is named the winner.
Branson's "Ebenezer," a Shortfin mako shark that was six feet long when she was released and named by Ebenezer Thomas Primary School in Tortola, BVI, travelled 7,387 miles in six months to be named the Guy Harvey Great Shark Race Champion. It was tagged off of the coast of Ocean City, Md. on May 27, 2015 and travelled north along the continental shelf, going as far north as Newfoundland, and is currently swimming around the central Atlantic. Branson was attracted to the race because it raises awareness about the crucial cause of conserving sharks and informing the next generation about the wonder of sharks.
The Caribbean Challenge Initiative was launched in 2008 by Sir Richard and a collection of Caribbean governments, as an effort to provide greater leadership, and to chart a new course for protecting and sustainably managing the marine and coastal environment across the Caribbean. Guy Harvey has supported this effort with custom artwork and providing scientific council to help ensure proper management.
As an entrepreneur fueled by a passion for marine biology, ocean conservation has become an integral part of the Guy Harvey brand. Widely recognized today as the world's finest marine wildlife artist, Dr. Harvey reinvests proceeds from his artwork and retail brand in an effort to understand, educate, conserve and effectively manage the world's marine fishes and their ecosystems. Through the Guy Harvey Ocean Foundation and the Guy Harvey Research Institute (at Nova Southeastern University, Dr. Harvey has worked tirelessly with dedicated scientists toward the future sustainability of the ocean.
About Guy Harvey:
Guy Harvey is a unique blend of artist, scientist, diver, angler, conservationist and explorer, fiercely devoted to his family and his love of the sea. His childhood passion for the ocean and its living creatures not only inspired him to draw, but fueled a burning interest that prompted a formal education in marine science. Having graduated with honors in Marine Biology from Aberdeen University in Scotland in 1977, Guy returned home to Jamaica to resume his education, earning his Ph.D. from the University of the West Indies in 1984. Though he gave up a budding career as a marine biologist for that of a highly acclaimed artist, Guy has continued his relentless pursuit to unravel the mysteries of the sea, traveling the world to better understand the habits and habitats of the marine wildlife he paints. For more information, please visit http://www.guyharvey.com.