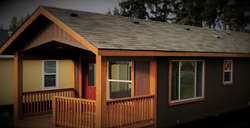 Affordable housing is now available to almost anyone.
SEATTLE, WA (PRWEB) February 05, 2016
DeTray's Custom Housing will show their newly built "little home" beginning Thursday, February 11, through Sunday, February 14, at the Seattle RV Show at CenturyLink Field Event Center, and again February 20 through 28 at the Seattle Home Show.
DeTray's is joining the trend of popular mini-homes with their version of the "tiny house." Dana and Diane DeTray, owners of DeTray's Custom Housing in Puyallup, state, "Our goal is to grow with the demands of the market and allow home buyers choices. Whether you're buying a 560-square-foot home or a 2,700-square-foot home, we want to offer multiple choices to allow everyone the chance to get into home ownership." They later add, "Affordable housing is now available to almost anyone. Where else can someone buy a new custom home for about the same price as a new automobile? The new 'little home' meets the demands of these challenging times. It sheds new light on these homes as an excellent option or housing choice."
The launch of the "little home" establishes DeTray's as one of the only custom housing distributors in the market today with the ability to offer customers a customized home that will combine luxury and comfort, with features and amenities most buyers seek, such as "green" standards in energy efficiency. "The housing market is driven by supply, demand and market trends. We seek to grow with change. We constantly try to find what is desired and needed and meet those customer demands to the best of our abilities," the owners conclude.
DeTray's Custom Housing in Puyallup encourages home seekers to consider looking into manufactured housing. Because of the high prices and low inventories of homes for sale, these elements are driving prices up and leaving less than desirable homes affordable. To get more information about manufactured housing options, visit DeTray's website and see their fully furnished model at the Seattle RV Show and the Seattle Home Show this month.
About DeTray's Custom Housing
Since 2002, DeTray's Custom Housing in Puyallup, WA, has been owned and operated by Dana and Diane DeTray. Their mission is to offer affordable quality homes, including custom features at the highest value with minimum stress and maximum satisfaction, meeting the individual needs of each customer.