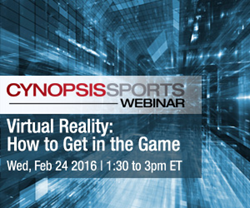 New York, NY (PRWEB) February 04, 2016
On Wednesday, February 24 Cynopsis Sports will host the interactive webinar "Virtual Reality: How to Get in the Game." With VR technology now affordable, thanks to recent moves from the likes of Samsung, Sony, Facebook and Google, sports continues to blaze the trail in enticing audiences to adopt and engage with this platform. Join the webinar and learn how to leverage your content into this transformative technology.
Cynopsis Director of Sports Content and Editor of Cynopsis Sports, Chris Pursell, will host the February 24 webinar along with industry experts including Jeff Miller, Director of Digital Marketing for Gatorade; Derek Belch, Founder & CEO of STRIVR Labs, Inc.; Andre Lorenceau, Founder and CEO of LiveLike VR and Michael Davies, SVP of Field & Technical Ops. for FOX Sports.
This webinar offers a deep dive into:

How to leverage your sports content to connect with fans.
How advertising fits into the equation.
Why sports can open the keys to the kingdom
Who the key players are in the VR spectrum.
Which audiences are utilizing the gateway.
How to monetize the technology.
How to spot new VR opportunities for your company.
Why VR is changing the sports industry not only for fans, but for teams as well.
This highly interactive webinar will allow for real time Q&A's to ensure your specific questions are answered. Register today for the Cynopsis Sports webinar "Virtual Reality: How to Get in the Game."
All webinar attendees will receive full access to speaker presentations for 1 year. Webinar tuition is based on location, not number of participants, so each registration site can have multiple participants for one low price. Questions? Contact Trish Pihonak at trish(at)cynopsis(dot)com.
About Cynopsis Media:
Cynopsis Media is what the TV industry reads first every day. The Cynopsis Media family of products includes the media industry's most-read daily, Cynopsis, plus sister dailies Cynopsis Digital and Cynopsis Sports, the Cynopsis Jobs board and special reports. Serving TV, agency and brand professionals, Cynopsis Media produces conferences, webinars, and awards programs that are second to none. Find out more at cynopsis.com.
###