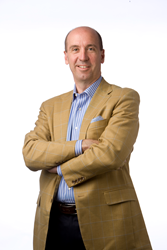 As a futurist I have the luxury of stepping back and looking at the big picture of the utility industry.
New Orleans, LA (PRWEB) February 09, 2016
"There is an eight hundred pound gorilla sitting before the utilities industry, but it isn't always easy to see." says trend expert Jack Uldrich. As a futurist, Uldrich looks at the big picture and he says to be best positioned for the future, people need to start unlearning old habits and embracing new ones.
A renowned futurist and the best-selling author of 11 books including, 'Higher Unlearning: 39 Post-Requisite Lessons for Achieving a Successful Future'--Uldrich, will discuss the the concept of unlearning, along with the latest trends in technology, at the National Rural Electric Cooperative on February 15th in New Orleans.
Among the top trends he will discuss are super computers, wearable technology, sensors, robotics, Big Data, artificial intelligence, advanced battery storage and renewable energies and the Internet of Things.
Uldrich says, "The future for the utility industry is ambiguous at best.To be successful in the utilities and energy industry, business leaders will need to embrace that ambiguity and the process of unlearning."
Hailed as "America's Chief Unlearning Officer" by Businessweek, Uldrich says, "New advances in technology bring forth exciting discoveries every day. But often lost in this new reality is the fact that organizations must unlearn old, obsolete knowledge and old ways of doing business, before they can seize tomorrow's opportunities."
Uldrich continues saying, "Leaders and workers need to step away from the daily grind to gain awareness and understanding as to how the world is changing and how discarding old habits and creating powerful new ones will actually help them harness new technologies."
"The world is going to change tomorrow," said Uldrich. "And the best way to approach change is to be open to it. If the energy industry doesn't pick up on these subtle changes, it'll end up locked up, inflexible and potentially in ruins. Unlearning will allow leaders to be nimble and adaptable enough to steer themselves and their organizations successfully into the future."
A highly acclaimed futurist and public speaker, whose aim is to help his clients thrive in increasingly competitive energy markets, Uldrich has worked with a number of companies and dozens of trade associations in the industry. He has delivered keynotes to APPA-the American Public Power Association, the Southern California Public Power Association, ABB's recent product launch tour on sensors, the CleaResults Energy Summit, Western Energy Institute, Southern Company, SDG&E, SMUD, Eaton, BP, the Southeastern Electric Exchange (SEE), Missouri River Energy, Northwest Energy, Idaho Power and the Northeast and Northwest Public Power Associations.
For more information on this event, or Uldrich as a futurist and keynote speaker, please visit his website.