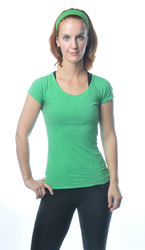 I wanted to learn how to best take care of myself both physically and mentally
Maple Grove, MN (PRWEB) February 08, 2016
Megan Kruger is the current owner of St. Louis Park Fit Body Boot Camp and now, almost exactly 3 years later, is celebrating the opening of her second location, Maple Grove Fit Body Boot Camp. The event will take place on February 27th from 9-11am at 9707 63rd Ave. N Maple Grove, MN, 55369. The event will include a raffle where all proceeds go towards the Maple Grove Fire Department.
Fit Body Boot Camp is the world's fastest growing and most popular indoor fitness boot camp brand, with hundreds of locations worldwide. The boot camp's unique brand of fitness combines individualized personal training from licensed professionals, clinically proven Afterburn workouts, and nutritional guidance to guarantee weight loss results.
Megan is thrilled to be able to open another location and hopes to be able to open a third soon in order to reach more people in her community.
"Words can't begin to describe how excited I am to be in the ever expanding city of Maple Grove," exclaims Megan. "I became a fitness professional when I was 19 because I wanted to learn how to best take care of myself both physically and mentally. I had played high school sports but stopped in college and wanted to make sure I stayed in shape."
Kruger initially moved to the Twin Cities to start a fitness business, and claims that the motivation and desire to help others that she sees in her staff is what allows them to expand. Megan looks forward to giving back to her community.
The grand opening event will feature chair massages, sample boot camp sessions and giveaways amongst other things. Local businesses are contributing as well, including the Suttons Advanced Cleaning Services, Culligan Water, Wild Threads and Relief Plus Chiropractic. A raffle will take place and all proceeds are being donated to the Maple Grove Fire Department.
The Maple Grove Fire Department has been in service since 1975, recently celebrating 40 years. The department started out with 20 volunteers and today has grown to over 95 men and women serving out of 5 stations throughout the city. The department is in need of exercise equipment and Megan hopes to raise enough money to help them provide this.
About Maple Grove Fit Body Boot Camp:
Maple Grove Fit Body Boot Camp is a part of the Fit Body Boot Camp family of indoor fitness boot camps, whose global goal is to engage 20% of the world's population in a healthy and fit lifestyle by the year 2020. Maple Grove Fit Body Boot Camp is owned and operated by Megan Kruger. Kruger is committed to helping members of the Maple Grove community set and accomplish their own health and fitness goals.
For more information about Maple Grove Fit Body Boot Camp, please call: (763) 710-5065
Visit their website at: http://www.fitbodybootcamp.com/maplegrovefitnessbootcamp/
Or their Facebook page at: https://www.facebook.com/MapleGroveFitBody/