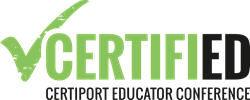 Salt Lake City, Utah (PRWEB) February 04, 2016
Certiport (http://www.certiport.com), a Pearson VUE business, the leading test delivery solution provider for the global workforce and academic markets, today announced the CERTIFIED 2016 Educator Conference, the only conference of its kind dedicated to helping educators bring the full promise and potential of technology certification to the classroom. Educators are invited to attend CERTIFIED from June 28-30, 2016, in Orlando, Florida at the Hilton Orlando Lake Buena Vista. Registration is open now at http://www.certiport.com/certified.
Watch a video to learn more about CERTIFIED: https://www.youtube.com/watch?v=Q8_94WzhBBs
CERTIFIED 2016 is ideal for secondary education teachers, college faculty, and administrators who are working to empower their students by bringing certification opportunities into their school and classroom. From experienced certification professionals to those just starting to use certification, CERTIFIED 2016 will provide practical knowledge to help educators make the most of certification today, plan for the future, and become a strong, effective certification advocate. Attendees will also get the chance to participate in the drama and excitement of the Certiport 2016 Microsoft Office Specialist U.S. National Championship by attending the final awards ceremony.
"Last year was the inaugural CERTIFIED Conference - it was a huge success and by the end of the conference, attendees were already asking about the 2016 event," said Aaron Osmond, general manager, Certiport, a Pearson VUE business. "Not only did they have fun, but they also learned with a community of educators who share a passion for using certification to improve education."
CERTIFIED will feature three days of educator-led breakout sessions, discovery sessions, keynote addresses, and networking activities designed to help educators serve their students, improve their teaching, and enhance their career. The final keynote address will be given by Manuel Scott, an original Freedom Writer who had lived in 26 places by the age of 16. Scott overcame drug and alcohol addiction and will share the story of how he went from being labeled as 'unreachable' and 'unteachable,' to being a successful entrepreneur and college graduate working on his Ph.D.
The second annual CERTIFIED Educator Conference expects to welcome more than 300 educators, industry experts plus additional sponsors. The importance of technical education continues to grow along with the value of validated skills in the workforce, and CERTIFIED will help educators implement successful certification programs to meet these needs.
Conference content will focus on Certiport's portfolio of leading certification programs including Microsoft Office Specialist, Microsoft Technology Associate, Adobe® Certified Associate, Autodesk Certified User, Autodesk Certified Professional, Intuit QuickBooks Certified User, and IC3 Digital Literacy certification. Early-bird pricing for a full conference pass is $495 until April 15. Register now and find more information at http://www.certiport.com/certified.
About Certiport
Certiport, a Pearson VUE business, is the leading provider of certification exam development, delivery and program management services delivered through an expansive network of over 14,000 Certiport Authorized Testing Centers worldwide. Certiport manages a sophisticated portfolio of leading certification programs including: the official Microsoft Office Specialist certification program, the Microsoft Technology Associate certification program, the Microsoft Certified Educator program, the Adobe® Certified Associate certification program, the Autodesk Certified User and Autodesk Certified Professional certification programs, the Intuit QuickBooks Certified User certification program, and the IC3 Digital Literacy certification. Certiport reliably delivers over three million tests each year throughout the secondary, post-secondary, workforce, and corporate technology markets in 148 countries and 26 languages worldwide. For more information, please visit http://www.certiport.com or follow Certiport on Twitter at http://www.twitter.com/certiport.
"Certiport" and "IC3" are registered trademarks of NCS Pearson, Inc. in the United States and other countries. The names of actual companies and products mentioned herein may be the trademarks of their respective owners.