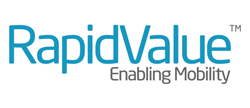 The commencement of operations in UK represents an important milestone in the company's latest development. We are expanding our Mobility and Cloud services to meet the evolving needs of our customers in the European market." says Rajesh Padinjaremadam
Pleasanton, California (PRWEB) February 06, 2016
RapidValue Solutions, a global leader in digital transformation, expands its presence in the European region. RapidValue has been focusing on delivering cutting edge technology solutions in mobility, omni-channel and cloud domains. The London office is set-up to provide prompt and quality services to their European customers. With in-depth knowledge of the European market, RapidValue endeavors to introduce innovative solutions and provide faster and seamless deployment. RapidValue will enhance its services with the commencement of the operations from the new office.
RapidValue is armed with a large team of experts in consulting, UX design, application development, and integration and testing. RapidValue serves global customers across industry verticals like Retail, Education, Manufacturing, Healthcare, Financial Services and Product development. Their customers range from the world's largest enterprises to emerging innovative firms and are proud to work with many Fortune 1000 organizations and Multinational companies. Some of the esteemed customers include University of Phoenix, Karmaloop, Singclair Broadcast Group, MedAmerica, du, Linkwell Health, Home Depot, HCPlive and eBay.
"We are pleased to announce the opening of our new office which is located in London, UK. The commencement of operations in UK represents an important milestone in the company's latest development. RapidValue is committed to expanding its Mobility and Cloud services to meet the evolving needs of our customers in the European market." says Rajesh Padinjaremadam, President & CEO, RapidValue Solutions.
Services rendered by RapidValue help in building digital and omni-channel solutions for the enterprises and also, cutting edge solution suite, which further, leverages the new generation technologies. Enterprises have access to all applications, across all devices, such as the smart phones, tablets, wearables and desktops. It is believed that IT systems in future will follow two principles: 'Anywhere, Anytime' and 'Responsive, Adaptive'. The solutions that RapidValue offers are built based on these two principles.
To know more about RapidValue, please visit http://www.rapidvaluesolutions.com
Sales Contact:
Roshmin Nair, Business Development Manager
roshmin.nair(at)rapidvaluesolutions(dot)com