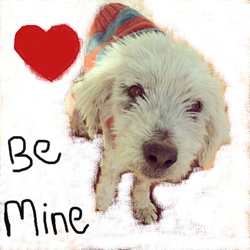 (PRWEB) February 06, 2016
The campaign features Marvin, who is looking for a Valentine. Marvin is a sweet disabled dog that no one in India will adopt. Marvin suffers from allergies, mange, and has an old injury that healed improperly while living on the streets.
Valentine's Day is great time to communicate the compassion Dharamsala Animal Rescue provides. Being a valentine to Marvin or to any dog living at Dharamsala Animal Rescue, will help to provide food, medicine, shelter and lots of love. Donors will receive a Valentine's Card from Marvin. This makes a great gift!
Dharamsala Animal Rescue want to bring attention to the well being of the thousands of dogs living on the streets of Dharamsala. India has the highest number of strays in the world; an estimated 35 million. Tragically, rabies kills over 30,000 humans annually in India, and the majority are impoverished children. Dharamsala Animal Rescue provides a humane solution - offering a spay, neuter and vaccination program, a rescue and adoption program and humane education for the community. Dharamsala Animal Rescue has seen astounding success with the implemented programs and hopes to continue to expand efforts.
"I have always been overwhelmed by the situation for dogs in India. Hearing about Dharamsala Animal Rescue and then meeting you was wonderful. Thank you again for the really positive impact you are having; never before have I visited this part of India with less dog stress!" - Ann Toots, Vets Without Borders
Dharamsala Animal Rescue was founded in 2008 and is a registered 501c3. Dharamsala Animal Rescue has been working to improve the lives of dogs living on the streets of Dharamsala while inspiring more compassionate behavior towards stray dogs in the community. Click HERE to have the best Valentine's Day ever!
Help Decrease Suffering and Increase Compassion!