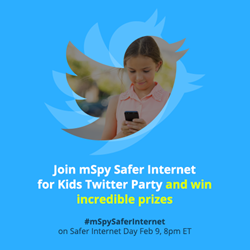 (PRWEB) February 08, 2016
mSpy, an international brand that secures children and provides the highest level of monitoring comfort, and 5minutesformom parental portal join the celebration of International Safer Internet Day to share tips, ideas and resources for parents to help keep their kids safer online.
Over the years, Safer Internet Day (SID) has become a landmark event in the online safety calendar. Starting as an initiative of the EU SafeBorders project in 2004 and taken up by the Insafe network as one of its earliest actions in 2005, Safer Internet Day has grown beyond its traditional geographic zone and is now celebrated in more than 100 countries worldwide, and across all continents. mSpy and 5minutesformom stand for safer internet and want to support and promote Safer Internet Day, and that's why they've arranged a Twitter Party to draw more attention to kids security issues online.
mSpy now is one of the key instruments to safeguard modern children online. It is one of the best ways nowadays to really acknowledge any child's interests and concerns. With the GPS tracking, parents can know if their children are in the wrong or dangerous neighborhood; with the messaging records, including texts, emails and most messengers - the cyber-bullying problem can be prevented. With the web browsing history reports, concerned parents can make sure that children are not spending time on pornography or gambling websites.
Support Safer Internet Day and join mSpy and 5minutesformom Twitter Party #mSpySaferInternet on February 9, 8pm ET. Share your point of view on kids' safety on the web and get a chance to win incredible prizes including Amazon Gift Cards and mSpy Premium Subscriptions.
ABOUT MSPY
mSpy specializes in customized and user-friendly mobile & computer monitoring solutions, by utilizing the latest innovations in monitoring technologies. mSpy's goal is to deliver the fastest and most secure solutions that suit most demanding parental and corporate needs and bring guaranteed results at an affordable price.