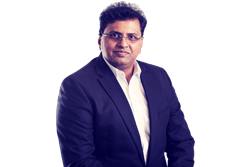 SK and Pierre have my full confidence to fulfill their new missions." - Olivier Jaillon, Founder and Global CEO
New York, NY (PRWEB) February 10, 2016
Zags, a provider of software solutions for property & casualty and group life insurers (http://www.zags.com), today announced a reorganization of its management in order to accelerate development and improve consideration of local conditions. As such, Zags entrusts SriKrishna "SK" Tirumala as Chief Executive Officer, North America.
In this position, Tirumala becomes responsible for leading regional sales and marketing, customer delivery, and building strategic alliance partnerships. He will continue to hold onto his position as Global COO where he is responsible for evolving the global product development and solution delivery unit to speed software innovation to insurers, streamlining the company's end-to-end product development and solution delivery approach.
Tirumala stated, "I am excited to be appointed the position of CEO of North America and am committed to play a key role in the company's growth in this region. Having been with Zags for more than 15 months, I am more than convinced that our product will carve a niche for itself as a light-weight, functionally rich, and robust insurance software that carriers have been looking for."
In EMEA, Pierre Leo becomes CEO, EMEA. They are both directly reporting to Olivier Jaillon, Founder and Global CEO.
Think global, act local.
To better address insurers' issues, Jaillon will focus on product vision and human resources. The research and product development teams will keep running as a global organization, deployed in the US, France, Tunisia and India. Jaillon says, "This organization allows Zags to better approach the market and its customers."
Commenting on the new role of SK Tirumala and Pierre Leo, Jaillon adds, "SK and Pierre have my full confidence to fulfill their new missions."
About Zags
Zags is a provider of core insurance software committed to delivering on its vision to change the status quo through the unique blend of technology and user experience. Zags designs its products to give P&C and group life carriers a better way of doing business that goes beyond policy administration, billing and claims. For more information, visit http://www.zags.com.
Contact:
John Bertoli
Senior Marketing Manager
John(dot)Bertoli(at)Zags(dot)com