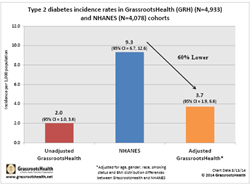 It is time to make a change in public health, the safety and benefits of vitamin D supplementation have been proven.
Encinitas, CA (PRWEB) February 08, 2016
GrassrootsHealth published data from its D*action public action study showing greater than 50% lower incidence rate of type 2 diabetes in the GrassrootsHealth cohort with substantially higher vitamin D levels than a cohort representing national averages. "It is time to make a change in public health," states Carole Baggerly, Director of GrassrootsHealth, "the safety and benefits of vitamin D supplementation have been proven."
The study appears in the January 2016 (volume 155, part B) issue of The Journal of Steroid Biochemistry and Molecular Biology.
According to the Centers for Disease Control and Prevention (CDC), diabetes afflicts 29.1 million people in the United States, about 9% of the population. Type 2 diabetes accounts for 90-95% of adult diabetes cases. The estimated total yearly cost of diabetes in the United States is $245 billion. "It is time to make a change NOW!" exclaimed Baggerly, "The standard of care is to recommend healthy eating, physical exercise, cessation of smoking – but what about vitamin D? This small change, made daily through sun or supplements, could have a drastic effect on health outcomes. If the standard of medical care changed to perform vitamin D testing and supplementation to adequate levels, 40-60 ng/ml, much disease could be prevented according to our panel of scientists and seen through our disease incidence prevention chart."
GrassrootsHealth data is collected from at-home 25(OH)D blood tests from people of all ages, health statuses, and geographic locations. Along with each blood test, participants also complete a health questionnaire. We ask that participants complete a new test and questionnaire every 6 months for 5 years to collect long-term data.
For this study on diabetes, the GrassrootsHealth data was compared to data from the National Health and Nutrition Examination Survey (NHANES). NHANES is a study program, combining interviews and physical examinations, designed to assess the health and nutritional status of adults and children in the United States. To match the data from the two data sets for comparison, GrassrootsHealth data was limited to participants 20 years and older residing in the United States who had not had a history of diabetes more than a year before enrollment.
The GrassrootsHealth cohort has a median 25(OH)D level of 41 ng/mg vs. NHANES with a median of 22 ng/ml. When comparing the number of cases seen in each population group in the study period, the GrassrootsHealth cohort has a full 60% lower incidence rate of diabetes.
"There have been studies that have shown no correlation between vitamin D and diabetes," said Robert Heaney, MD, Creighton University and GrassrootsHealth Research Director, "but those studies either had too few participants, or did not use enough vitamin D. In order for nutrient studies to be effective it is important that enough of the nutrient be used to change the nutrient status in participants from deficient to sufficient. Only studies reporting over a large nutrient range will have enough data to be definitive."
GrassrootsHealth is a nonprofit public health research organization dedicated to moving public health messages regarding vitamin D from science into practice. It has a panel of 48 senior vitamin D researchers from around the world contributing to its operations. GrassrootsHealth is currently running the D*action population intervention program to solve the vitamin D deficiency epidemic worldwide. Under the D*action umbrella, there are programs looking at the entire population as well as targeted programs for breast cancer prevention and a 'Protect Our Children NOW!' program to reduce the complications of vitamin D deficiency encountered during pregnancy and childhood.