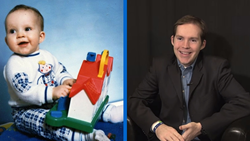 Autism can't define me. I define autism.
Jersey City, NJ (PRWEB) February 09, 2016
When you first meet Kerry Magro, a 28-year-old man from New Jersey you see a well-spoken, friendly individual who likes to help others. What you might not realize is that Magro also happens to be on the autism spectrum. Today Magro has overcome the odds to not only learn to speak, but to today have his own T.V. talk show.
"Ever since college the phrase I like to say is that 'autism can't define me. I define autism.'" Magro said, "It's important for those in our community to know that they can't be defined by whatever label they may have in their lives. Only you can define your life."
That dedication towards 'defining his disability' led him to working day and night to receive a Masters degree from Seton Hall University in Strategic Communications to pursue a career in public speaking. Today, Kerry has spoken at over 600 venues, given two TEDxTalks, written two best-selling books, worked on several motion pictures, and been highlighted in major publications including Upworthy, Huffington Post, BBC News, USA Today and Yahoo Parenting. Two months after finishing his Masters, he received a full-time job at Autism Speaks and as of July 2015, was selected to host the "Different is Beautiful Show," a new local TV series on Comcast that looks to highlight the beauty of everyday stories in our communities.
"I think it's a testament to how wide the autism spectrum really is," Magro says, "If you've met one person with autism, you've met one person with autism. I hope I can be a role model for those kids tuning in, whether they have autism or not, that great things are possible."
Magro through this entire transition has said many a times that he hopes to be the "Jimmy Fallon of the special needs community" to help spread awareness of those overcoming obstacles on a viral level. The show which airs weekly has had countless guests on who have been able to share their stories to a wide audience.
"I'd like to thank Hudson Media Group for taking a chance on me and helping me share my voice. Through the show I hope I can pay it forward by having my guests stories shared around the world. That's what it's all about. We have so many stories that deserve to be heard."
The Different is Beautiful Show is produced by Hudson Media Group and airs on Comcast Channel 51 in Jersey City, New Jersey and also available to watch online via Livestream. Check your local listings. You can learn more about the show at http://www.differentisbeautifulshow.com