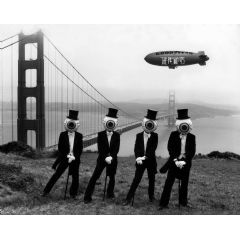 "THEORY OF OBSCURITY is nirvana for music and film lovers alike…" – Arthur Glover, Scenester
New York, NY (PRWEB) February 04, 2016
Film Movement, the distributor of award-winning independent and foreign films, announced today that Don Hardy's documentary, THEORY OF OBSCURITY: A FILM ABOUT THE RESIDENTS, will screen in select cities around the country starting February 19th.
The film, which premiered last year at the SXSW Film Festival, was called one of "15 Must-See Movies" by Rolling Stone, which also singled out The Residents as one of "30 Artists You Need to See." THEORY OF OBSCURITY recently played at DOC NYC in November and will continue to screen while The Residents are on tour this spring. Fans can also arrange for local screenings of the film through the web-platform Tugg.com.
Most bands can only dream of the fame The Residents have achieved – a 40+ year career, over 60 albums, seven world tours, and legions of devoted fans – yet no one knows who they are. With unprecedented access to their archives and their recent 40th anniversary tour, director Don Hardy tells the story of the iconic renegade cult music and art collective known as The Residents in THEORY OF OBSCURITY: A FILM ABOUT THE RESIDENTS. From the group's formation in Shreveport, Louisiana, to their success in the burgeoning San Francisco avant-garde music scene of the '60s and '70s, The Residents redefined what a rock band could be. With the advent of music videos in the 1980s, these masked musicians gained global fame as MTV darlings and serious art world figures, culminating in many of their works becoming part of The Museum of Modern Art's permanent collection.
With the cooperation of The Residents' management company The Cryptic Corporation, and through interviews with creative collaborators such as Matt Groening, Penn Jillette, and fans such as Les Claypool (Primus), Jerry Harrison (Talking Heads), and Jerry Casale (Devo), among many others, the film takes viewers inside this incredibly private group where the identities of its members are kept secret. The documentary gives a glimpse into the history of these hardworking, do-it-yourself everymen who still have mortgages to pay and families to support, but do so by wearing eyeball masks and tuxedos. Inspiring a new generation of music lovers, as well as die-hard fans to stay weird, take chances, and find their own voice, Hardy's doc was called "a fine primer for the curious" by The Hollywood Reporter.
Starting February 19th, THEORY OF OBSCURITY: A FILM ABOUT THE RESIDENTS will screen in the cities listed below. The nationwide tour begins April 9th at The Regent in Los Angeles.

2/19 & 2/20: Miniplex Theater – Arcata CA
2/25 & 2/28: Cleveland Cinematheque
3/3 to 3/12: MFA Boston
3/5 to 3/10: Hollywood Theater – Pittsburgh PA
3/18: SIFF Film Center – Seattle, WA
3/19, 3/21 & 3/24: Charles Theater – Baltimore MD
3/21: Alamo Drafthouse – San Francisco, CA
3/24: Smith Rafael Film Center – San Rafael, CA (Don Hardy will attend for Q&A)
3/29: Clinton Street Theater – Portland OR
4/1 to 4/7: Alamo Drafthouse - Littleton CO
4/8 to 4/10: Arena – LA (Don Hardy will attend for Q&A)
4/8 to 4/14: The Frida Cinema - Santa Ana, CA
4/9: Regent Theater – LA, CA (tour with film)
4/10: Regency Ballroom – San Francisco, CA (tour with film)
4/12: Aladdin Theater – Portland, OR (tour with film)
4/13: Neptune Theater – Seattle, WA (tour with film)
4/14: Rio Theater – Vancouver, BC (tour with film)
4/15 to 4/19: The Kiggins Theater – Vancouver WA
4/17: The Cedar – Minneapolis, MN (tour with film)
4/18: Thalia Hall – Chicago, IL (tour with film)
4/19: The Crofoot Ballroom – Pontiac, MI (tour with film)
4/22: La Tulipe – Montreal, Quebec (tour with film)
4/23: College Street Music Hall – New Haven, CT (tour with film)
4/23: Wexner Center – Columbus OH (1 day)
4/25: Royale – Boston, MA (tour with film)
4/25: Metrograph – NYC (1 day)
4/26: Gramercy Theater – NY, NY (tour with film)
4/29: 930 Club – Washington DC (tour with film)
4/30: Cat's Cradle – Carrboro, NC (tour with film)
5/1: Variety Playhouse – Atlanta, GA (tour with film)
5/3: Texas Theater – Dallas, TX (tour with film)
5/4: Marchesa Hall – Austin, TC (tour with film)
5/6: Crescent Ballroom – Phoenix, AZ (tour with film)
5/8: Bellyup Tavern – Solano Beach, CA (tour with film)
Praise for THEORY OF OBSCURITY includes:

"If you're a long-time fan of The Residents…then the rare early footage will be very exciting for you. You'll learn a few knew things that will be cool, but mostly seeing that rare footage will bring you great joy. If you've never heard of them, then this is a great gateway into the strange and wonderful world of America's most mysterious band." – Mike Noyes, Inside Pulse
"Don Hardy's documentary THEORY OF OBSCURITY: A FILM ABOUT THE RESIDENTS does not compromise the band's mystique of anonymity." – Peter Wong, Beyond Chron
"In honoring the band and trying to present an appreciation for their sense of humor and the seriousness of their art, THEORY OF OBSCURITY succeeds." – Seth Freilich, Pajiba
THEORY OF OBSCURITY (2015, 87 mins) Directed by Don Hardy. Select Participants include Matt Groening, Les Claypool, Penn Jillette, Jerry Harrison, Gary Panter, Rob Crow, Homer Flynn, Hardy Fox, Jay Clem, and John Kennedy. USA. A Film Movement Release. Trailer, stills, and synopsis available here.
About Film Movement:
Launched in 2002, Film Movement is a full-service North American distributor of award-winning independent and foreign films, based in New York City. Film Movement has released more than 250 feature films and shorts from 50 countries on six continents, including top prize winners from Sundance, Cannes, Venice, Toronto, Berlin, Tribeca and other prestigious festivals. Film Movement releases its films through numerous distribution channels, including thousands of art-house cinemas, universities and libraries; home video; television outlets; cable video on demand; digital platforms; and in-flight entertainment. For more information, please visit http://www.filmmovement.com.