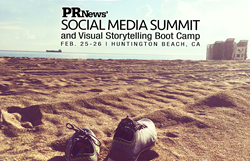 Huntington Beach, CA (PRWEB) February 06, 2016
PR News has programmed a unique event 40 minutes outside of Los Angeles that combines social media, technology and interactive learning. The Social Media Summit & Visual Storytelling Boot Camp on February 25-26 will connect communicators with the latest technology and tools to help them create successful campaigns and communications initiatives, and with digital communications leaders who will share the latest best practices in using the social media networks that matter most to their organizations and clients. Although Early Bird rates ended on Friday, February 5, PR News is extending this rate through Monday, February 8 using the code EBR100.
View the full agenda online: http://www.socialmediaconf.com.
The Social Media Summit and Visual Storytelling Boot Camp will be held at the beautiful Hyatt Regency Huntington Beach Resort and Spa where PR News has secured a $255/night room block rate. This discounted rate expires February 9 and room availability is limited. To lock in the Early Bird rate pricing, attendees can use the code EBR100 to save through Monday, February 8. Offer not valid on registrations made prior to February 6.
Attendees will learn from and network with the brightest minds in social media, from a broad range of organizations—b2c, b2b and nonprofit organizations. Speakers include: Brittany Detamore, Social Engagement Strategist, IBM; Victoria Lim, Managing Editor, Public Relations & Editorial Content, Walt Disney World; Henry Yu, Consumer Safety Officer, Food and Drug Administration; Kelly Bennett, Manager of Social Media and Marketing Strategy, Miami University; Kirstie Foster, Director of Corporate and Brand Communications, General Mills and more.
For more information or to register online, visit http://www.socialmediaconf.com.
To sponsor the event, email Lindsay Silverberg at lsilverberg(at)accessintel.com.
For registration questions, email Jessica Placencia at Jessica(at)accessintel.com.
ABOUT PR NEWS: PR News is a daily intellectual hub that serves the communications and marketing community at corporations, agencies and nonprofits. For more information, please visit http://www.prnewsonline.com.