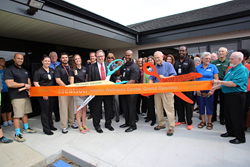 Our hospital is here to not only serve and care for those who are sick, but to improve the health of our community
Zephyrhills, FL (PRWEB) February 04, 2016
Florida Hospital Zephyrhills officially welcomed community leaders and residents to the newly, constructed state-of-the-art CREATION® Health Wellness Center. The facility is three times the size of the former wellness center housed near the hospital campus on the Northeast corner of Daughtery Road and Dairy Road.
"We are very excited about the opening of our new wellness center and spa," said Randy Surber, President and CEO of Florida Hospital Zephyrhills. "Our hospital is here to not only serve and care for those who are sick, but to improve the health of our community. Through our CREATION® Health Wellness Center, we provide health and wellness activities, fitness instruction, education and support in helping people live longer, healthier lives."
The CREATION® Health Wellness Center at Florida Hospital Zephyrhills will provide something for everyone, including an expanded fitness floor and equipment, personal and group training space, expanded spa with manicures, pedicures, body wraps and massage, Kid's Zone, cooking demonstrations and much more. Members will continue to enjoy the Healthways SilverSneakers® Fitness Program, pool access for water aerobics, nutritional program and diabetes education.
"By creating this wellness center we'll become a beacon of light that can help empower our community to discover the victory in personal wellness," said Casio Jones, Director of the Wellness Center. "Without our community, we wouldn't be here and our community deserves a wellness center like this one. Wellness will be a big part in extending the healing ministry of Christ."
The address for the new CREATION® Health Wellness Center is 38233 Daughtery Road, Zephyrhills, FL 33540. It will offer 24/7 access to the fitness floor. If you are interested in becoming a member, please visit FHZWellness.com for more information.
About Florida Hospital Zephyrhills
Florida Hospital Zephyrhills is a 139-bed regional medical center located in East Pasco County. It is a member of the Florida Hospital network of Adventist Health System, one of the largest health care providers in the state of Florida. Florida Hospital Zephyrhills has been nationally recognized by the American Heart Association, the American Stroke Association, The Joint Commission, and HealthGrades for excellence in providing top quality patient care with special emphasis on safety and patient outcomes. The award-winning Heart Program has received recognition in the treatment of coronary intervention, heart failure, chest pain, open heart surgery, and electrophysiology procedures. The hospital offers a full range of inpatient and outpatient surgical offerings, including orthopedic services such as hip and knee replacement and advanced MAKOplasty® robotic partial knee replacement. The Women's Health Center offers comprehensive services for women including gynecology, urology and pelvic floor health, labor and delivery through The Baby Place®, and breast care through the Simpson Breast Health Center. The hospital also offers 24/7 emergency services including a "fast track" option, imaging services, and the Center for Wound Healing. Visit FHZeph.org for more information.