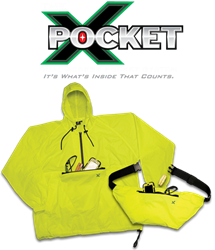 York, PA (PRWEB) February 04, 2016
Entrepreneurs, Jarvis Green, Keith Bell, Sandra Green and Selina Robinson from York, Pa invented the lightweight breathable pullover that converts into a sling pack and provides access to needed cargo in both modes. The XPocket Dual Access Pocket System, is the only pocket system that provides direct access to important cargo in dual mode, without changing the cargo's location. This allows one garment to function equally as a pack or outerwear, permitting someone to carry less and do more. The XPocket is wind resistant as well as highly water resistant.
This patented product is designed to be a water resistant packable rain jacket used by many hikers, rock climbers, runners, bikers, hunters and fishermen. Mens, womens, and kids sizes are available. We also offer a fleece XPocket.
Use the XPocket in 3 simple steps. First, the individual puts the garment on adding cargo into XPocket (marked with "XPocket" logo). The second and third steps include converting the garment to sling-pack and then accessing cargo into sling-pack mode. For a visual description visit: http://www.thexpocket.com/x-pocket-dual-access-pocket-system
The Xpocket Bugout Series Pullover is available in Bugout Camo, Safety Yellow, Navy Blue, and Black. The garment performs well as an outer shell in nasty conditions and is perfect for any outdoor activities as the weather changes. Use it just as effectively as pack and have protective outerwear in a pinch.
To learn more about the product and to pre-order visit: http://www.thexpocket.com