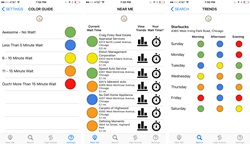 Life is short, Y Wait?
Chicago, Illinois (PRWEB) February 05, 2016
Y Wait Inc. has released their highly anticipated, iPhone mobile app, Y Wait. The convenience application puts an end to needlessly waiting in line by providing current and historical wait times at any US location. In conjunction with the release, Y Wait Inc. has declared February 19, 2016, as "The Day the World Stopped Waiting" and has launched its Kickstarter campaign.
Y Wait Inc. is a mobile application development company founded by Rich Kenny and AJ Melaragno in April 2015 with the mission of creating convenience applications that save their users the most valuable commodity in the world - time. "With today's technology, why are we still waiting in lines? Is there anything more frustrating or more wasteful than standing in line? Why don't we know what kind of wait to expect at our favorite restaurant, at the grocery store, at the DMV, or at the airport security line? With today's technology, this information should be at our fingertips," says Rich Kenny.
This technology, the Y Wait app, is now available for free at the Apple App Store. The application collects wait time data from its users, not from third parties or by simply estimating how many people are at a location in order to predict wait times. Y Wait users can also view historical wait times to help them make better decisions on when to go to their destination or to better select an alternative. "We understand that reliable data is what provides value to Y Wait's users. Our users and the data they provide are our number one priority," explains AJ Melaragno.
In addition to the free app, Y Wait has created a unique opportunity to give back to its users. AJ Melagragno states, "We want to give back our users not only their time but also allow them the chance to be owners in the company. Our users provide the data and we want to reward them for their participation by setting aside 10% of the company which Y Wait plans to give away to its most active users. Every time users provide wait time data they are awarded points and the users with the highest point totals will be eligible to receive equity in our company."
"The Day the World Stopped Waiting" is February 19th. On this day, Y Wait is asking everyone to provide wait time data in order to put an end to waiting. Take part in our revolution and please help us by donating to our Kickstarter campaign," says Rich Kenny. For more information, view the Y Wait video on YouTube.